Forum engages media on biotechnology for food productivity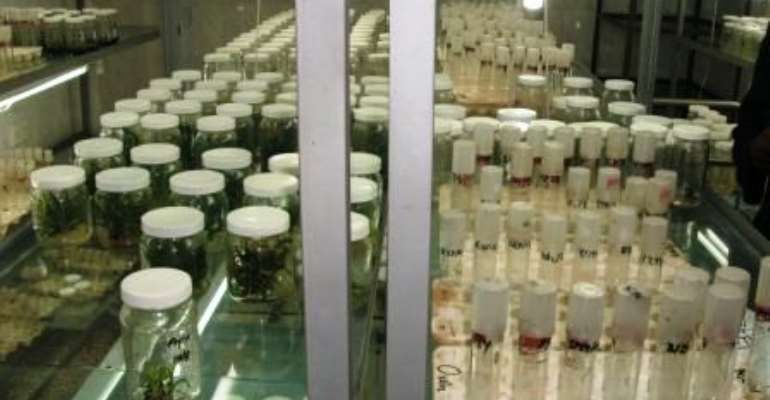 The Open Forum on Agricultural Biotechnology in Africa (OFAB) wants the Ghanaian media to frame the modern biotechnology debate in a manner that will improve public perception toward the technology.
Over 60 percent of people in Africa depend on agriculture for their livelihood, yet only four percent of cropped land has access to irrigation, whilst close to 33 percent of cropped land is subject to drought, making food production extremely difficult.
Other factors affecting agriculture in Africa include poor policies, low investments in agriculture, virulent attach on crops by pests, diseases and low application of fertilizers due to extreme poverty.
According to Daniel Otunge, Africa Coordinator of OFAB, a program of the African Agricultural Technology Foundation (AATF), the media has huge responsibility in setting the right development agenda for policy makers, especially in promotion of better agricultural policies and adoption of new technologies to help mitigate the challenges.
"For better or for worse, the world is mass media mediated," he said, adding that the media is vital in the biotech debate to provide information for the public to make decisions regarding benefits and potential risks.
The enactment of the National Biosafety Act in 2011 gives full legal backing to the use of LMOs in Ghana but with biosafety approval.
The National Biosafety Committee last year approved three applications for confined field trials of Living Modified Organisms (LMOs) in the country, including cowpea, rice and cotton biotech crops.
Mr. Otunge has called on the media to provide the platform for credible biotech dialogue in Ghana to facilitate improved and timely decision making on the technology.
"To ensure that Africa is in a position to harness the benefits of biotech, the media ought to make the debate to be about which policies need to be formulated; which strategies need to be adopted; which capacities are lacking and needs to be built and what biotech investments should be made and where", he stated.
By working closely with scientists and policy makers, the media should define an African agenda for biotechnology or else the continent will forever be dependent on food aid from countries that have adopted innovative agricultural technologies to improve food production, the OFAB coordinator noted.
OFAB Focal Person in Ghana, Dr. Margaret Otta Atikpo, believes the use modern biotechnology would help bring about agricultural productivity in Ghana.
"In biotechnology, we are removing the good traits in the genes of organisms and putting it into another [organism] to get a better product, so the farmer can produce a lot of crops in a short while you have the cattle breeder getting a lot of cattle produced from one source", she explained.
OFAB has the mission to enhance knowledge-sharing and awareness on agricultural biotechnology to help create a better biotech regulatory frameworks to facilitate adoption of the technology.
The Forum currently has six chapters in Ghana, Burkina Faso, Nigeria, Kenya, Uganda and Tanzania.
Story by Kofi Adu Domfeh
Editor's Note:
AATF is a not-for-profit organization that facilitates public-private partnerships to access and deliver appropriate agricultural technologies for use by resource-poor farmers in sub-Saharan Africa.

The Foundation was set up specifically to deal with the intellectual property rights with regards to biotech crops and has successfully brokered several technologies including Striga control in maize; Insect-resistant cowpea; improvement of banana for resistance against banana bacterial wilt; Biological Control of Aflatoxin; Drought-tolerance in maize and Improved Rice.