Court remands 29-yr old for selling COCOBOD solar-lights meant for farmers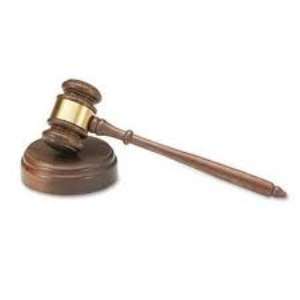 Court Hammer
Half Assini (W/R), Feb. 5, GNA - The Half Assini Magistrate Court has remanded in Police custody Grace Quansah, 29, also known as Akua Amakyiwah from Gomoa Dego in the Central Region for possessing Ghana COCOBOD solar-lights meant as incentives for cocoa farmers.
Amakyiwah has been charged for stealing and was ordered by the court presided by Mr Hans Kofi Kpogo to reappear on Monday, February 11th.
The accused was arrested January 26, 2013 in the Jaway Wharf Saturday Weekly Market near Half Assini in the Western Region by a combined team of Police and Anti-Cocoa Smuggling Taskforce upon a tip-off.
The Police said at the time of the arrest Amakyiwah was in possession of six-and-a-half cartons of Ghana COCOBOD solar torch-light which are incentives meant for cocoa farmers and was selling them in the market since December last year.
She sold the items for GH¢7.00 per one, which she explained was given to her by an uncle at Twifo Praso in the Western Region whose name was not given.
Amakyiwah's plea was not taken and was therefore remanded to assist in Police investigation.
GNA