IPPF Advocacy On The Ground Helps Tackle Female Genital Mutilation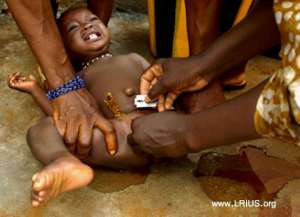 A-female-child-undergoing-the-barbaric-practice-of-Female-Genital-Mutilation
IPPF marks the International Day for Zero Tolerance to Female Genital Mutilation today by highlighting the role of advocacy through its Innovation Fund project in Cote d'Ivoire.
Women and girls experience some of the worst forms of violence. Female Genital Mutilation (FGM) is one example of how the human rights of girls and women are grossly violated. It is the harmful practice that involves cutting away parts of the female external genitalia, or other injury to the female genitals, for cultural or other non-therapeutic reasons.
The true extent to which FGM is practised globally is still unknown, but it is estimated that 92 million women and girls have undergone FGM with many more suffering its consequences including complications in childbirth, newborn deaths, decreased sexual pleasure and risks to health.
The practice is carried out on girls as early as infancy. Girls are made to believe that to be cut is the only true path to womanhood. It is usually carried out by traditional practitioners under unhygienic conditions and is deeply entrenched in tradition. Fears still exist regarding the supernatural or mystical powers wielded by FGM practitioners.
FGM while outlawed in many countries is still practised around the world. It denies women and girls the rights to life, liberty and security and bodily integrity as well as equal sexual expression and pleasure.
IPPF uses grassroots interventions that help address and enforce Article 3 of its Sexual Rights Declaration. This builds on the Federation's advocacy work and reflects international instruments to ensure that women and girls rights are respected, protected and fulfilled.
IPPF Director General, Tewodros Melesse said:

"Female Genital Mutilation is a crime against the human rights of women and girls. There is now more international recognition for the ban than there has ever been. This day is a great example of the global commitment to end the practice. But the fact remains, that it's so deeply embedded in the rituals of tradition.
"The work also has to target from the ground up, if we are truly going to change the fathers and mothers, the village elders, religious teachers, husbands and the brothers and sisters who believe that FGM is the right thing to do.
"Global commitment must be translated into programmes that target communities, media, religious leaders, intellectuals, clinicians and decision-makers and young women. To give people and communities the strength, knowledge and confidence to believe that there is another way. It is only then, women and girls will be given the freedom and protection from harm that they truly deserve".

IPPF Innovation Fund project in Cote d'Ivoire reveals how advocacy work can make a change
FGM has been outlawed in Cote d'Ivoire since 1998 but is still practised in many parts of the country. From 2009 to 2012, IPPF's Member Association in Cote d'Ivoire, the Association Ivoirienne pour le Bien-Etre Familial (AIBEF), implemented an advocacy project in the Seguela district, where the prevalence of FGM is a staggering 88 per cent – the highest in the country.
AIBEF worked closely with community leaders, a local women's rights non-governmental organization (NGO) and traditional FGM practitioners to raise awareness of the negative consequences of FGM and to ensure that the law is enforced. The overall aim of the project was to reduce the prevalence of FGM in the district, with an emphasis on changing attitudes at the community level. AIBEF conducted focus group discussions in 20 villages to determine perceptions and knowledge of FGM and whether and how the practice could be eradicated. The Association then trained religious and community leaders, journalists, community health workers and ex-practitioners on the negative health and rights consequences of FGM, as well as the law.
The project has shown innovation through the utilization of ex-practitioners as peer educators in the communities and beyond. Also, linking sensitization to other women's rights issues – sexual and reproductive health and family planning – ensuring that the message was heard by those who needed to hear it.
Much progress has been made through sensitization, training, word of mouth and other innovative strategies. It is delivered through committed project staff and volunteers (including community health workers and peer educators) who have worked closely with religious and traditional leaders, health-care providers and from local authorities.
Key achievements:

177 people trained on the consequences of FGM
201,920 people (136,217 female, 65,503 male) attended awareness raising activities around the abandonment of FGM, health implications of FGM, the law against FGM and forced marriage
75,569 people informed about FGM through a documentary film and home visits
30 local monitoring committees established, including 20 at the village level, to ensure implementation of the law and to monitor behaviour change
4 arrests made based on alerts raised by the committees
17 ex-practitioners received micro-credit grants when they agreed to abandon the practice of FGM
Supplementary Quotes from the project:

Many community leaders have been involved in sensitization:
"I remind the people about the harmful effects of FGM, in the mosque and other public gatherings. When I talk about something, the faithful listen." (Imam)
"You see the way you are suffering, if you do the same to your daughter (mutilate her), she will go through the same pain." (Midwife)
Ex-practitioners, determined never to be involved in the practice again, now understand the effects:
"I didn't like it. When I was young I saw what happened to girls and I didn't like it. When my turn reached, I refused but I couldn't raise my voice. When AIBEF came along, they helped us to voice our opinions."
FGM is deeply rooted in centuries of tradition; women and girls who have not undergone the practice are often stigmatized.
"A woman who has not been circumcised is constantly insulted and nobody wants to touch her food." (Focus group participant)
Women are seen as the primary perpetrators of the practice; AIBEF, therefore, made a concerted effort to target women and girls in its community advocacy efforts.
"It's the woman who takes the initiative to circumcise her daughter. Even if the husband doesn't approve, the young girl is circumcised unbeknownst to the head of the house." (Focus group participant)
Article 3 Sexual Rights: An IPPF Declaration refers to the rights to life, liberty, security of the person and bodily integrity. It states that "All persons have the right to be free from harmful traditional practices, including female genital mutilation…"
The September 2012 'Women's Health in Muslim Countries: High Level Expert Consultation' with representatives from over 30 countries emphasized that the practice of FGM was a violation of women's rights.
IPPF Sexual Rights Declaration http://www.ippf.org/resources/publications/sexual-rights-ippf-declaration