Using birthing stool to reduce maternal deaths, a must for Ghana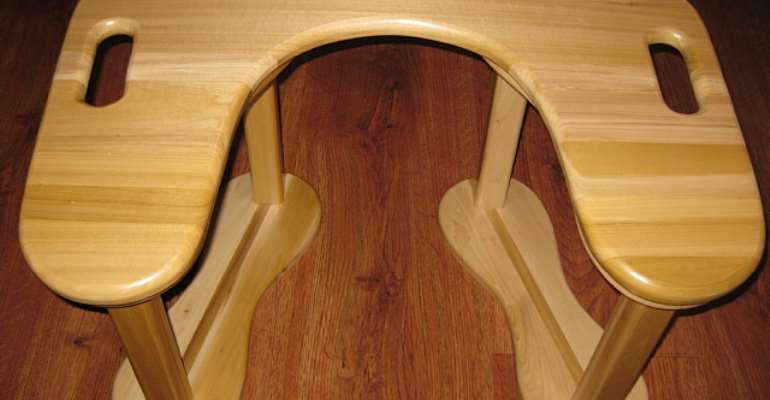 Although society expects women to bear healthy children and honour them for their role as mothers, yet pregnancy and childbirth are perilous journeys sometimes of no return.
Every minute, a woman dies in childbirth, every minute; the loss of a mother shatters a family and threatens the well-being of surviving children and for every woman who dies in Ghana, 20 or more experience serious complications. This ranges from chronic infections to disabling injuries such as obstetric fistula.
As people celebrate the birth of a new-born baby, women at several stages of the voyage through pregnancy, and childbirth, go through several difficulties sometimes resulting in death.
The maternal death and disability rate mirror the huge discrepancies that exist between the haves and the have-nots in the society.
This terrible experience is claiming the lives of women silently. Working for the survival of mothers is human rights imperative. It also has enormous socio-economic ramifications and is a crucial development priority if Ghana wants to achieve the Millennium Development Goal (MDG). 
This calls for a 75 per cent reduction in maternal mortality between 1990 and 2015.  This three-pronged strategy, which says; all women have access to contraception to avoid unintended pregnancies, all pregnant women have access to skilled care at the time of birth and all those with complications have timely access to quality emergency obstetric care is key to the accomplishment of the goal.
Currently, the maternal mortality rate in Ghana ranges from 214 deaths per 100,000 live births to as high as 800 deaths per 100,000 live births.
However, maternal mortality is difficult to measure accurately, especially in the poorest countries, which tend to have the highest maternal deaths, and the estimates are bound by wide measures of uncertainty, according to the records.
Traditionally, about 51 per cent of all births occur at home by untrained elderly women of the community and that also had contributed to the increase in maternal deaths.
Globally maternal deaths are caused by post-partum haemorrhage, severe anaemia, sepsis, obstructed labour and obstetric Fistula.
Replicating traditional birthing of using stools into hospitals will surely enable Ghana achieve MDG's 4 and 5 by 2015 if embraced by all.
As measures to save the lives of Ghanaian women from dying through maternal deaths, Mrs Juliet Magdalene Acquah, an expert in save motherhood skills have initiated birthing stools, designed for sitting and squatting during labour to make the process more easily for pregnant women.
The initiative is aimed at improving the utilisation of supervised delivery services that would encourage more women to patronise supervised delivery services in health facilities.
The two new modernised tools are to aid comfortable delivery positions during labour and encourage more pregnant women to deliver in health facilities instead of home.
Mrs Acquaye who is Senior Midwife at the Cape Coast Metropolitan Hospital told the Ghana News Agency (GNA) that said she was compelled to design the birthing stool because most labouring women preferred to be delivered by Traditional Birth Attendants (TBA) either at home or at the home of the TBA due to the flexibility they offered by way of delivery positions.
This she said prevented many expectant mothers in the villages to come to the health facility to deliver their babies.
In hospital, women in labour are made to stay in bed and when the time comes for delivery; their feet are put in stirrups. This position enables the attending Midwife or Doctor to have easy access and a clear view of what is going on medically. But what might be good for the medical staff might not be necessarily be so good for the mother who feels uncomfortable and humiliated to push her baby without the helpful force of gravity.
'I, therefore set out to encourage the provision of options for delivery at our facility to encourage expectant mothers to utilise supervised delivery services,' she said.
She mentioned some of its advantages as enhancing the rotation of babies and descent in a difficult birth, helpful if one does not feel the urge to push, requires less bearing down and reduces incidence of vaginal and perineal tears.
Mrs Acquah explained that currently enlightened practitioners are encouraging expectant mothers to labour in any position they may feel comfortable and deliver in positions far different from the usual 'flat-on-the-back' position.
She said lying flat on the back is the least effective delivering position of all adding, any position that enlists the aid gravity is likely to yield speedier results.
'Lying on your back with a full-term baby inside your uterus can put pressure on important blood vessels, possibly compromising blood flow to the baby. Such situation posed problems with potentially tragic outcomes,' she said.
Narrating how the whole idea started, Mrs Acquah a 59-year-old mother of three, said she was inspired by the work of her own aunt, who was also a midwife and saw her attending to pregnant women.
Initially with her own resources, in 2007, Mrs Acquah designed a birthing stool, a chair scooped out at the front with an armrest, backrest and raised platform for the feet  and had a wooden prototype made by a carpenter in Cape Coast in the Central Region.    
'If the pregnant sit, the backbone becomes straight and the pelvic region opens by 1.5 centimetres and the baby falls by gravity.'
After interacting with the women in my community, one of the major objections the women they raised was the fact that health professionals wanted them to give birth lying on their backs, and 'after listening to these people I realised they wanted a more conducive position, a position more comfortable to women and that position is either sitting or squatting,' she added.
When implementing the new idea, she experienced resistance from her own colleagues who thought, 'We (medical staff) can't bend down to do deliveries'. 
Mrs Acquah started teaching other midwives about the new technique with her own resources until assistance came from the United Nations Population Fund (UNFPA) to expand the knowledge.
'Now, the birthing stool is being used in hospitals and clinics in all 10 regions of Ghana,' she said.
Her good work has earned her an international award for the Health and Dignity of Women and Girls in New York. It was organised by Friends of UNFPA, and present was the UN General Secretary Ban Ki-moon.
Although Ghana now has about 3,700 trained midwives, the country still experience shortage of midwives in rural areas. Midwives do not accept postings or may not stay for long when posted to the rural areas due to the difficult conditions they experienced, which include lack of electricity and running water.
Though Ghana's maternal mortality in Ghana has declined by 44 per cent since 1990, the rate, 350 deaths per 100,000 live births, still remained high. Nearly 2,600 women die in childbirth annually and this is very alarming.
Fortunately, the work of midwives like Mrs Acquah is helping to reduce the death rate.
Ghana Health Service (GHS) should enforce the Ghana Safe Motherhood Programme and other cost effective and efficient safe motherhood interventions and monitor maternal health care programmes and train more TBAs.
Private and public health care service providers at the community levels should show commitment in saving the lives of expectant women and intensify public education on the need for pregnant women to attend ante-natal clinics.
The birthing stools should be used in every health facility to encourage more expectant mothers to deliver in a health facility where they will be supervised by professionals.
Dr Patrick Aboagye, Deputy Director in Charge of Family Health of the GHS in an interview with GNA, thinks there is hope for Ghana to achieve the MDG 5 if only the right resources are put in place to address the identified challenges.
He explained that the birthing stool has not been accepted by all women though it is commonly used in Northern, Upper East and Upper West regions and some parts of the Central Region.
This he said was so because many women prefer giving birth using different positions suitable to them by either squatting or lying on their back
He noted that with the squatting position, injuries are lower in occurring whilst delivery was also quicker during the second stage of delivery.
Dr Aboagye noted that although it was equally good and an advantageous, getting service providers to accept it was a challenge whilst getting space for the stools was also a problem.
He called for more resources for the training of midwives and health professionals on the acceptability of the stool though it would not replace the old system of delivery.
Meanwhile, the Commission on Human Rights and Administrative Justice (CHRAJ) says Ghana is unlikely to meet the MDG target of 185 per 100,000 live births by 2015 unless pragmatic steps are taken to speed up the pace of maternal health interventions in the country.
According to the Commission, in spite of the number of  interventions initiated by the government to achieve MDG Five which was set to reduce by three-quarters the maternal mortality ratio by 2015, progress seems to be very slow.
This was contained in the highlights of the Commission's 2011 Report on the State of Human Rights in Ghana.
The report stated that maternal mortality ratio in the country had improved marginally from 560 maternal deaths per 100,000 live births in 2003 to 451 maternal deaths per 100,000 live births in 2008.
Analytically, the report said if the current trend continue, maternal mortality would reduce approximately to 340 per 100,000 live births by the set date of 2015, which would be impossible for Ghana to meet the set target of 185 per 100,000 live births.
On infant mortality, the CHRAJ report noted that the 2008 Ghana Millennium Development Goals Report pointed to evidence showing that there had been significant reduction in both infant and under-five mortality rates in recent times.
It said it would be unlikely that the 2015 target of reducing child mortality rates would be achieved unless there is an effort to scale-up and sustain the recent child survival interventions, which had brought about the current improvement.
The Commission therefore called for more concerted efforts aimed at achieving the MDGs on infant health and such efforts the writer believe should include Mrs Acquah's initiative.
A GNA feature by Linda Asante Agyei