Tertiary institutions should help to stem graduate unemployment - Prof Afranie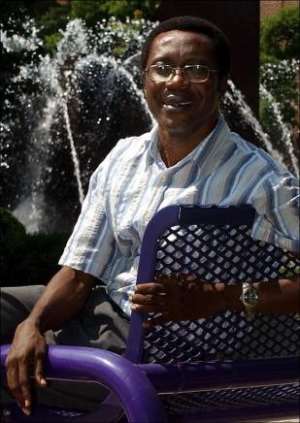 Professor Samuel Afrane
Kumasi, Feb. 05, GNA - Professor Samuel Afranie has challenged tertiary institutions to help solve the perennial problem of graduate unemployment confronting the nation.
He said these institutions need to conduct a research and come up with innovative learning regimen to equip graduates with entrepreneurial skills that will equip them to create their own jobs after the completion of their courses.
Prof Afranie, who is the Provost of the College of Art and Social Science (CASS) at the Kwame Nkrumah University of Science and Technology (KNUST), was addressing the opening of the six-week entrepreneurship clinic held jointly by the Centre for Business Development (CBD) and the CASS at KNUST.
Over 5000 final year students of KNUST and students from other tertiary institutions in the Ashanti Region are attending the clinic
He said the country's education should equip the student with analytical and creative skills that will enable them add more value to themselves, identify opportunities for job openings and seize them instead of looking for jobs which are not available.
The Provost challenged the students to take keen interest in whatever would be discussed at the clinic since experience shared can equip them with the right skills and knowledge needed to establish their own jobs.
Over 5000 final year students of KNUST and students from other tertiary institutions in the Ashanti Region will attend the event and a 'mentor's day' will climax the clinic during which participants will have the opportunity to interact with experienced Ghanaian entrepreneurs who will  deliver presentations on relevant topics.
Mr Ralph Nyadu-Addo, Head of the CBD, said the clinic which will end on March 8 said the programme seeks to educate the students with the general knowledge in all aspects of the entrepreneurship and small business management with emphasis on professional and business ethics.
 Professor Nii Odei, Pro Vice Chancellor of KNUST, said the entrepreneurship clinic was meant to sow a seed in participants and this needed to be nurtured to their own advantage.
He said KNUST as part of the measures to unearth the talents of students, had established the Kumasi Business Incubator scheme.
Mr Philip Sowah, Managing Director of Airtel Ghana Limited, who chaired the opening, said the company would continue to liaise with the academia to help train students to be marketable for the job market.
He urged the students to take advantage of Information Technology programs to enhance their skills and knowledge for their own development. GNA