NPP MP calls for ceasefire between Ken Agyapong and Appiah-Ofori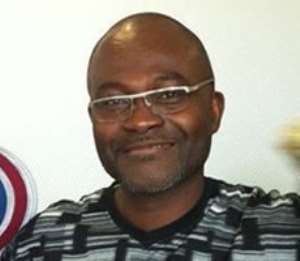 Kennedy Agyapong
The Member of Parliament for the Asuogyaman constituency, Kofi Osei Ameyaw has expressed worry over a growing rift between two New Patriotic Party (NPP) stalwarts, Kennedy Agyapong and PC Appiah-Ofori.
Mr. Osei Ameyaw said the public outbursts by the two leaders of the opposition party had the tendency of creating credibility problems for the party.
Meers Agyapong and Appiah-Ofori have been trading insults over the NPP's decision to boycott proceedings of the Appointments Committee of Parliament.
The NPP Minority Members of Parliament are not participating in the vetting of ministers nominated by President Mahama in view of the party's election petition filed at the Supreme Court alleging fraud in the December polls.
However, Kennedy Agyapong who is the MP for Assin Central has lambasted the party leadership for taking the decision which he said was not in the interest of the party.
The vociferous MP also blamed his colleagues (minority MPs) for allowing party leadership to dictate to them on the matter.
Ken agyapong's statement infuriated a stalwart of the party and a former MP, PC Appiah Ofori who launched a vitriol on the MP, calling him a rabble-rouser.
The two sparred on Accra-based Okay FM using unpalatable words against each other.
Speaking on Asempa FM's Ekosii-Sen programme on Tuesday, Kofi Osei Ameyaw called for a ceasefire between the two party stalwarts noting that the party cannot grow with disunited leadership.
"I am calling for a ceasefire between our two party stalwarts because the NPP cannot grow in disunity. I am begging Ken, he is a Member of Parliament and must behave in a way that will protect the sanctity of parliament and the party. I am also pleading with former MP, Appiah Ofori to also use the right channel in addressing the issues raised by the MP than throwing insults at him. Please there must be a ceasefire now!" he pleaded.
The former deputy minister for trade under the erstwhile Kufuor government asserted instead of throwing verbal vituperations at each other, the two party leaders must use their energies to support the party's petition at the Supreme Court.
He called on the Council of Elders of the party to as a matter of urgency call the two leaders to order.


Story by Ghana/Asempa FM/Twum-Barima