Journalists condemn chiefs' opposition to Dr. Danaa's appointment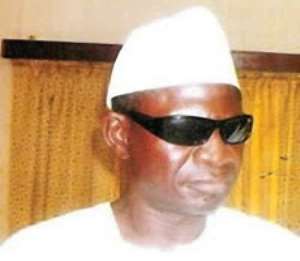 Dr. Seidu Danaa
The Network of Journalists for the Promotion of the Right of Persons with Disabilities in Africa (PROMOAFRICA) has condemned the position taken by some traditional authorities with regard to the nomination of Dr. Henry Seidu Danaa as Minister-designate for Chieftaincy and Traditional Affairs.
The nomination of Dr. Danaa met sharp opposition from some traditional rulers on the grounds that the nominee is visually impaired. It is taboo for the physically challenged to have direct contact with chiefs according to some traditional beliefs.
The chief of Seikwa in the Bono-Ahafo Region, Nana Kwaku Dwomo Ankoana II, is on record openly calling for the rejection of Dr. Danaa on the basis of his visual impairment, asserting that it is "an abomination to choose a physically-challenged person to lead a chieftaincy institution".
PROMOAFRICA issued a release describing those chiefs opposition to Dr. Danaa's appointment as serving a personal interest at the expense of broader society.
"In year 2013, it is strange that this kind of chiefs refuse to protest against the things that directly and negatively affect our body politic and general development as a nation, but would go to the roof top and shout and make a fuss over a practice that concerns only the individuals.
"PROMOAFRICA is calling on this chief and others who think or may like to think like him, should look for the blemish in the chieftaincy institution itself than in Dr. Danaa as Minister for Chieftaincy and Traditional Affairs.
"We call on well meaning Ghanaians to openly condemn this kind of reckless statement and thinking and help move mother Ghana forward."

Story by Ghana/Myjoyonline.com/Jerry Tsatro Mordy