NDC Women Disown Benyiwa Doe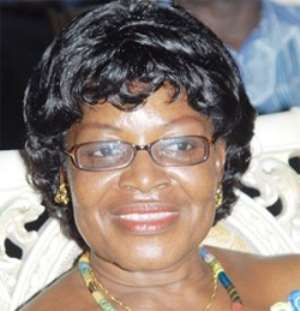 Ama Benyiwa Doe
The women's wing stated this at a press conference held at Cape Coast in the Central Region to debunk media reports that the group was angry with the President for changing Benyiwa Doe.
President Mahama had named a certain Enoch Kweku Teye Addo for the position of regional minister, replacing Ama Benyiwa Doe.
However, since his nomination some interest groups have been planning to torpedo him, especially people close to the outgoing regional minister who wanted him retained.
The Regional Women's Organizer, Ernestina Owusu Frimpong, who read the speech on behalf of the women's wing, said they were in support of the President's nominee in all endeavours in the advancement of the Better Ghana Agenda.
Madam Owusu Frimpong underscored the media personnel to crosscheck their facts from the party's executives in the region before putting any publication into the public domain.
She appealed to the President to turn off his ears from the circulating rumours, and that the regional wings of the party were strongly behind him.
Meanwhile, the Central Regional Coalition of Constituency Election Directorate of the National Democratic Congress (NDC) on Thursday, described Enoch Kweku Teye Addo's appointment as Regional Minister 'as the right choice for the job.'
Michael Joe Donkoh, spokesperson of the coalition, who made this known at a press conference in Cape Coast said the appointment of Mr Donkoh, Gomoa East Director of Election was in recognition of his hard work and dedication.
He expressed the hope that the region under his stewardship would experience peace and development to help the government to achieve the Better Ghana Agenda.
Members of the coalition pledged their full support for him and asked for God's guidance, wisdom and good health for him to 'make us all proud'.
Mr Donkoh expressed gratitude to President John Dramani Mahama for the honour.
From Sarah Afful, Cape Coast