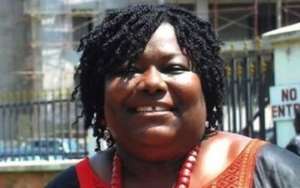 Nana Oye Lithur new
Nana Oye Lithur Accra, Feb 1, GNA - Parliament on Friday approved the appointment of five nominees including Nana Oye Lithur, Minister-designate for Gender, Children and Social Protection, despite a public's outcry over her stance on homosexuals.
The other four were Mr Akwasi Oppong-Fosu for the Ministry of Local Government and Rural Development, Professor Naana Jane Opoku-Agyemang for Education, Dr Joe Oteng Adjei for Environment, Science, Technology and Innovation and Dr Edward Omane Boamah, Ministry of Communications. 
This followed a recommendation by the Appointment Committee of Parliament in its report requesting the House to approve them by consensus, which was read by Mr Ebo Barton Oduro, first Deputy Speaker on the floor of the House.
Before the approval, members of the House lauded the performance of the nominees, saying they gave a good account of themselves and their curriculum vitae fully satisfied the requirements set out by the Committee.
Despite criticism of Nana Oye Lithur's stance to protect the rights of homosexuals because the Constitution guarantees such fundamental rights, the members in their contribution, sided with her for speaking from the point of view of her profession as a lawyer. 
Mr James Agalga, member for Builsa North, said Nana Oye Lithur's position had legal basis quoting article 17 and 35 of the 1992 Constitution, which frowns on discrimination based on sexual orientation, adding that the nominee's position was in consonants of the laws of the country.
Mr George Loh, member for North Dayi, said as a lawyer, Nana Oye swore an oath which enjoins her to be fair to all manner of people.
Mr Mahama Ayariga, Minister for Information, said the law was explicit and clear that no person was right to engage in homosexual conduct, adding that prejudice had often driven people to conduct themselves in ways that many others would not approve.
GNA