UK military to support Ghana in airlifting troops to Mali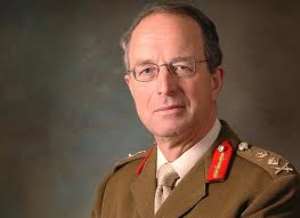 General Sir David Richards
Accra, Feb 2, GNA - General Sir David Richards, Chief of Defence Staff of the United Kingdom on Saturday held a closed-door meeting with President John Dramani Mahama at his Cantonments residence in Accra.
Although, Journalists were not permitted to cover the programme, it is believed that they discussed a range of issues including the the restoration of peace in Mali, Democratic Republic of Congo, among other countries on the continent.
Also in attendance were; Lieutenant General Joseph Henry Smith, Caretaker Minister for Defence and Mr Mark Woyongo, Minister designate for Defence.
Colonel Nbawine Atintande, Public Relations Officer of the Ghana Armed Forces, who briefed Journalists after the meeting, said the UK military command had promised to provide an aircraft that would airlift about 120 Ghanaian military men, mostly from the 69 Engineers Regiment on February 15 and 16 this year.
He said Ghana and the UK had had long-term training exchange programmes and the visit was to invigorate the relations.
Colonel Atintande said the Ghana Armed Forces would strengthen their relations with their partners to enable them to execute all their goals in the coming years.
GNA