Canadian Minister calls on Vice President Amissah- Arthur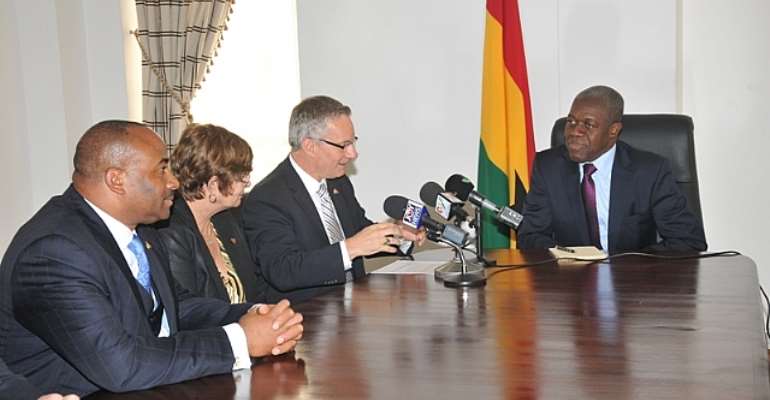 Accra, Jan 31, GNA -Vice President Paa KwesI Bekoe Amissah-Arthur, on Thursday said Ghana was poised to develop the extractive industry to create more jobs and move people out of poverty.
He, therefore, welcomed the partnership between government and development partners, to create further growth and expansion of the industry, and commended Canada for her positive role in the development of the Ghana National Petroleum Corporation in the 1980's.
The Vice President said these at a meeting he had with Mr Ed Fast, Canadian Minister for International Trade, at the Flagstaff House in Accra on Thursday.
Vice President Amissah-Arthur said the Government of Ghana would continue to create the necessary investment conditions for exploitation of country's oil and gas and other areas in the extractive sector.
He said the collaboration between Canada and Ghana over the years should move from development assistance to development co-operation.
The Vice President expressed appreciation to Canada for supporting the social sector in Ghana, and gave the assurance that government would continue to provide the necessary conditions to promote economic growth, efficiency and move people out of poverty.
Mr Fast, who has already visited Nigeria, was on a six-day trade mission to that country and Ghana to advance the interests of Canadian businesses in sub-Saharan Africa, with expected trade increase in turn, to create jobs and increase prosperity for both Canadians and their African counterparts.
Mr Fast is accompanied on the trade mission by representatives of nearly 30 Canadian organizations, most of them operating in the extractive industries and infrastructure sectors.
He noted that Canada had had a long relationship with Ghana in terms of development assistance, with 100million dollars support for Ghana in recent years.
Mr Fast said the visit to Ghana was historic, and the first by a Trade Minister of Canada, advocating enhanced bilateral co-operation and strategic economic partnership for growth and prosperity for both countries.
GNA