Pakistan coach hails 'incredible' South Africa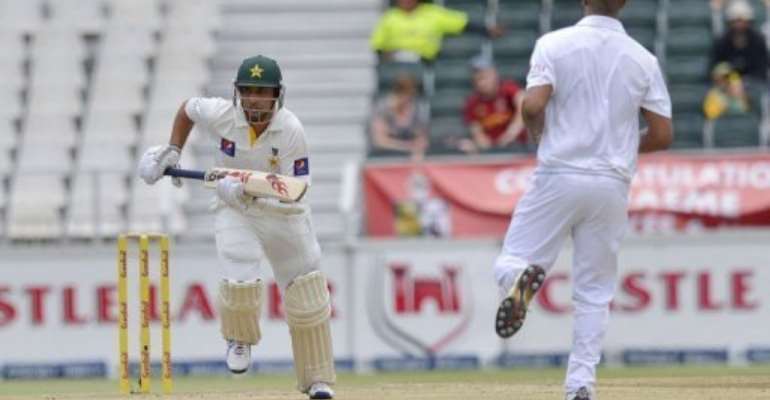 JOHANNESBURG (AFP) - Pakistan coach Dav Whatmore hailed an "incredible" performance by South Africa's pace attack after his team were bundled out for a record low of 49 on the second day of the first Test at the Wanderers.
"I've never seen two hours of relentless, incredible pace bowling such as I have witnessed today," said Whatmore.
Dale Steyn was the main destroyer, taking six for eight in 8.1 overs as Pakistan slipped below their previous lowest total of 53 against Australia in Sharjah in 2002/03.
South Africa did not enforce the follow on and took command of the match, posting 207 for three in their second innings to take an overall lead of 411 into the third day.
Captain Graeme Smith (52), Hashim Amla (50 not out) and AB de Villiers (63 not out) hit half-centuries.
"Most of our batsmen got out to terrific balls," said Whatmore. "I'm very disappointed with the result but you really need to give credit to the opposition. It wasn't an easy wicket by any means but the way they bowled was incredible."
Steyn said a pep talk by Smith before play had fired up the South African players, who had been bowled out for 253 on the first day.
"Graeme sat the guys down. We don't often have these conversations. He just felt the need to sit us down for two minutes and mention to us that he wanted a hundred percent day today and he didn't feel we gave it yesterday," said Steyn.
"He felt that if we gave a hundred percent we could dominate."
It was another triumph for South Africa's battery of fast bowlers and the third time in less than two seasons that the world's number one Test team had bowled out opponents for fewer than 50.
Australia were routed out for 47 in 2011/12 and New Zealand were dismissed for 45 earlier this season. Both matches were in Cape Town.
DeVilliers equalled the South African wicketkeeping record by holding six catches and there were three catches in the slips as the Pakistan batsmen failed to cope with top quality bowling on a pitch with steep and sometimes variable bounce as well as some sideways movement.
Whatmore said that although Pakistan had bowled out South Africa relatively cheaply he knew that it would be a difficult day for his team.
"Personally I thought (South Africa's) 253 was not a bad score given the conditions of that pitch and knowing what the South African bowlers can do," he said.
Vernon Philander took two for 16 and Jacques Kallis two for 11.
Azhar Ali (13) and captain Misbah-ul-Haq (12) were the only Pakistan batsmen to reach double figures.
Steyn was outstanding, bowling at high pace and making the ball move away disconcertingly from the right-handed batsmen.
He started Pakistan's collapse by taking three wickets in 14 balls at the start of the day and followed up with three more in 12 deliveries to wrap up the innings soon after lunch.
Asked whether he thought the pitch was too difficult for the second day of a Test match, Whatmore responded: "It looked that."
Steyn struck with his fifth ball of the day after Pakistan resumed at six for no wicket, having Mohammad Hafeez caught behind for six, edging an out-swinger.
In his next over Steyn trapped new cap Nasir Jamshed leg before wicket when the left-hander went back on his stumps against a full delivery.
Jamshed, who had survived in the previous over when Philander unsuccessfully sought a review of umpire Bruce Oxenford's not out decision, was himself the victim of a failed review after being given out by umpire Billy Bowden.
Five balls later Steyn claimed the key wicket of Younis Khan, caught at first slip when he edged a perfect out-swinger.
Azhar Ali and Misbah-ul-Haq survived for more than an hour before Kallis claimed two wickets in three balls, having both batsmen caught behind.
Misbah was given out on review after Bowden turned down an appeal, although "hot spot" evidence showed only the faintest, momentary touch.
Whatmore said the review decisions were "part and parcel" of the game.
"I'm not going to comment on that. Any comments will be done in the right channels," he said.