Timbuktu residents ask France not to leave too soon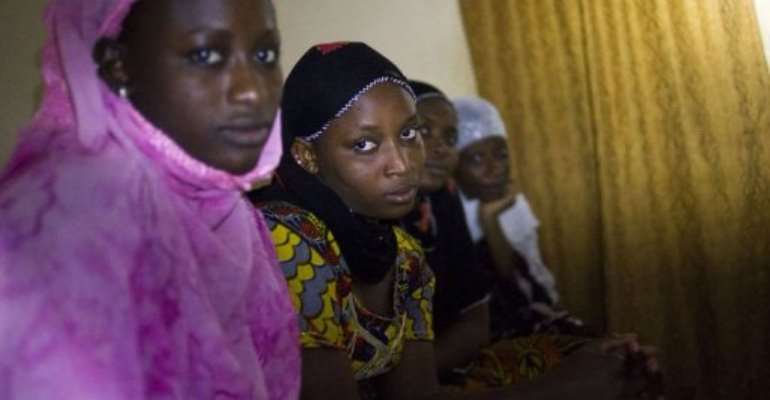 TIMBUKTU, Mali (AFP) - Dancing to the beat of drums forbidden by their Islamist occupiers, Timbuktu residents gave President Francois Hollande a reverent welcome Saturday but said they fear the extremists will return once French troops leave.
Thousands crowded into the fabled caravan city's sandy Sankore Square, greeting Hollande with banners bearing titles such as "The Saviour" and "The Angel Who Stopped Disaster".
"Hollande is my messiah because he brought the good news and stopped the jihadis from advancing on the south," said Ravi Maiga, 67, an aide to Timbuktu's mayor, his white embroidered robe standing out against the sea of colourful turbans and headscarves filling the square.
"But there's an adage that says, 'When you kill a snake, you must cut off its head,'" added the former teacher.
"As long as the jihadis' leaders -- the Algerians Abou Zeid, Mokhtar Belmokhtar and company -- are at large, this is going to continue.
"The people of Timbuktu have a legitimate fear. They don't feel completely secure yet."
Hollande's whirlwind visit came after French-led forces reclaimed Timbuktu on Monday from Al Qaeda-linked rebels who seized it amid the chaos unleashed by a military coup in March last year.
The Islamists ruled the north with a brutal interpretation of Islamic law, punishing transgressors with public whippings, amputations or executions. They forced women to wear veils and banned music and cigarettes.
Timbuktu, which rose to fame in the 14th century as a gold and salt trading hub, has a rich history as a centre of Islamic learning in Africa.
But the Islamists set about destroying heritage they considered sacrilegious, including mausoleums of Muslim saints and some of the ancient manuscripts at the Ahmed Baba library.
When Hollande, accompanied by interim Malian president Dioncounda Traore, entered the library Saturday, 37-year-old shopkeeper Ahmed Diallo, who lives nearby, welcomed it as a symbol of victory.
"The Islamists were living in there" only last week, he said.
"There were some from Al-Qaeda in the Islamic Maghreb and others.... They had Kalashnikovs and machine guns on their pick-up. They scared everybody and mistrusted everyone, even me when I was just going to sweep up the mosque in the morning."
A group of retired soldiers took to the streets with French and Malian flags, celebrating what former sergeant Lutini Aboubakrine, 64, called the "complete joy" of the city.
"But France can't leave too quickly," he said. "The Islamists have been weakened. There are only little groups left in the mountains, the desert, hiding among the refugees. We need to find these people. These are men made to wage guerrilla war."
Timbuktu was still half-empty during the visit, with many of those who fled their homes yet to return.
Besides those who fled the Islamists, some light-skinned residents, seen as supporting the largely Arab and Tuareg occupiers, have continued to flee, fearing reprisals from their black neighbours.
Abdou Alboukadar Toure, a 70-year-old tailor, recalled that when Hollande's predecessor Jacques Chirac visited Timbuktu in 2003, "there were hundreds of camels all along his route" -- unlike on Saturday.
"This isn't a true party," he said. "People are still afraid the Islamists are going to come back with explosives on them."
Papa Mahamane Sidi, 32, who claims to be the last taxi driver in a city that used to rely on a steady stream of tourists drawn by its remote mystique, said he had a message for France.
"Don't leave too soon. Stay a while longer. For our complete security," he said.