Zimbabwe fills hangman vacancy after 7-year search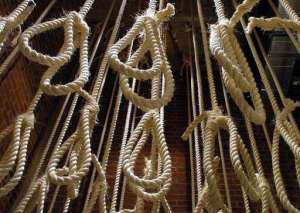 Zimbabwe's previous executioner retired in 2005. By Yoav Lemmer (AFP/File)
HARARE (AFP) - Zimbabwe has finally hired a hangman after seven years of searching, but he has not yet executed any of the 76 people on death row, a top prisons official has said.
"Indeed, we now have a hangman," Prison Service Commissioner Paradzai Zimondi was quoted as saying in Saturday's edition of The Herald, Zimbabwe's state-controlled daily.
The post was filled last year by a candidate the paper speculated was of Malawian origin. The previous executioner retired in 2005.
The government had repeatedly advertised the job in the press, but it took a long time to find takers.
Of the 16,902 criminals being held in Zimbabwe's jails, 76 of them are awaiting the hangman's noose, Zimondi said.
"These people are still to be executed. In fact no one has been executed in the past 12 years," he said.
Some death row inmates were convicted more than 14 years ago but were still appealing their cases when the previous hangman retired.
Two death row prisoners are women, who may be spared the noose if a new constitution is adopted in a referendum sometime this year.
Zimbabwe's new draft constitution exempts women and anyone under 21 or above 70 from the death penalty.