Reject Interferences From The 'Powers That Be'—ACP Awuni Urges Police Officers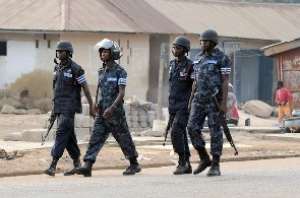 Assistant Commissioner of Police (ACP) Angwubutoge Awuni, Commanding Officer of the Motor Traffic and Transport Unit (MTTU) of the Ghana Police Service, has charged the Unit's personnel to be firm in dealing with traffic offences to stop the rising incidence of road carnage.

He said road crashes and attendant fatalities were still on the ascendancy despite numerous interventions to curb the situation. He said a disturbing phenomenon was interferences from public opinion leaders who often come in to plead on behalf of offenders.
Added to that, he said, was the behavior of some personnel taking bribes from offenders to stall their prosecution.
ACP Awuni was addressing the opening of a two-day capacity building workshop in Kumasi on Thursday under the theme: "Enhancing the Capacity of the MTTU to Enforce the Contents of Road Regulation 2180 towards the Reduction of Road Traffic Accidents 2013."
It is being held for 29 officers and men drawn from the Ashanti, Brong Ahafo and Western regions.
The Driver and Vehicle Licensing Authourity (DVLA), National Road Safety Commission (NRSC) and the MTTU have collaborated to organise the workshop with the DVLA providing sponsorship.
The MTTU boss stressed that such indiscipline leading to the soaring of road crashes, which had been the case for the last five years, could never be reduced if the Police did not decide to act firmly to do away with such acts that compromised their competencies and erased their public confidence.
The Commanding Officer was worried that just 31 days into year 2013, 100 lives had been lost already, saying "this if not curbed, might grow to be worse."
He, therefore, called on them to discharge their duties without fear or favour to win public respect.
"Stop the unholy alliance between you and drivers and avoid the exchange of hands on the roads and check nuisance," he chastised.
He said there would be no justification to collect monies from offenders and kill their cases, adding "arrest those cars which are not road worthy, vehicles with defects, drivers that run through the red lights and others."

He hinted that government had released money to provide logistics such as speed dials, alcohol censors, among others to make work easy.
Deputy Commissioner of Police (DCOP) Augustine Gyening, Ashanti Regional Police Commander, called on the media to use their platforms to educate the public more on road accidents, which is claiming many lives than armed robbery incidents now dominating the airwaves.
He hoped the workshop would encourage participants to also educate personnel to handle drivers professionally in order to reduce the road carnage.
Mr Cheyuo Wienaa Musah, Director, Driver Training Testing and Licensing of DVLA, advised personnel to enforce the law and do regular inspection for efficiency and pledged DVLA's support.
Mr Rudolph Beckley, Deputy Director, Research, Monitoring and Evaluation of NRSC revealed that the Ashanti is the only region with a reduction of 3.5 per cent in road fatalities and crashes for the past four years.