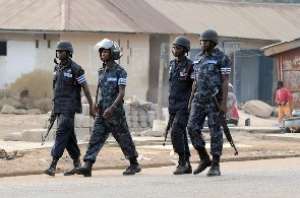 Large parts of the country's second major metropolis, Kumasi, have become no-go areas for the city's residents after 6 p.m. due to the regime of terror imposed by knife-and pistol-wielding criminal elements.
The areas in question include Kwadaso, Asafo, Kejetia, the PZ area in Adum, the immediate surroundings of the Total filling station at Krofrom, the IPT area at Tanoso, and Kwadaso.
Even though the police have vowed to make the Ashanti Region uncomfortable for criminals, a number of residents from these communities told The Finder newspaper that they are living under the constant terror from the robbers.
Some said they were forced at gunpoint to surrender every possession they had. "I had to give up my mobile phone, cash, jewels, handbags and even my Bible," one lady victim said.
Another victim said when he tried to resist three men who wanted to rob him, he was brutally beaten and still robbed of his phone and cash.
The police have admitted that certain criminal activities such as car snatching and armed robbery have been worryingly in the Ashanti Region, but they have also made some breakthroughs by apprehending and killing scores of alleged robbers and retrieved and returned snatched cars to their owners.
But residents maintain that the rate of crime in the city is still high, and have therefore appealed to the police to intensify patrols.