Parliament Denies Meeting US Ambassador Over Oye Lithur's Nomination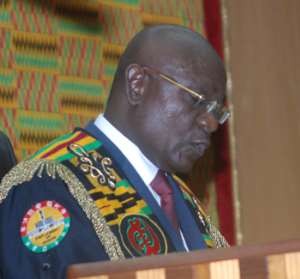 Rt Hon Edward Doe Adjaho
The Parliament of Ghana has denied reports over a purported meeting between its leadership and Minister designate for Gender, Children and Social Protection Nana Oye Lithur and the US Ambassador over the controversy surrounding her nomination.
Nana Oye Lithur's nomination is being opposed by the clergy and some pressure groups in Ghana for allegedly supporting gay rights.
Director of Public Affairs of Parliament, Jones Kugblenu in an interview with XYZ News said although the US Ambassador paid a courtesy call on the Speaker, Nana Oye Lithur was not present at the said meeting.
He said nothing about her nomination nor were issues of homosexuality discussed at the meeting.
"It was a courtesy call by the US ambassador to Ghana on the Speaker of Parliament and in attendance were the majority leader, the deputy minority leader, the clerk and some officials of the Parliamentary service.
"I have heard that Nana Oye Lithur was part of the meeting let me state categorically that Nana Oye Lithur was not part of the meeting and the discussion did not even any issue relating to the vetting".