President Mahama Must Declare Stand On Gays And Lesbians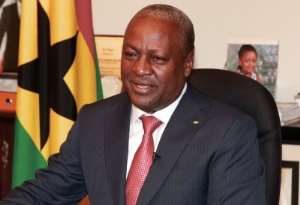 President John Dramani Mahama Of Ghana
Student Councellor of the Pentecost University,Pastor Amos Kevin-Annan has called on President John Dramani Mahama to publicly declare his stance on the raging national debate on gay and lesbian rights.
According to Pastor Kevin-Annan, since some of the President's predecessors had set the example by publicly declaring their stance on the legalization of gay and homosexual rights, it was crucial that he followed suit.
His position follows a raging national debate sparked by concerns raised by the legislators during the vetting of Minister designate for Gender, Children and Social Protection, Nana Oye Lithur, on Wednesday.
According to Mrs Lithur, though she was not publicly advocating the practice of gay and lesbian activities, she was bound by the law of the land to protect the rights of every Ghanaian.
Speaking on Citi FM's news analysis programme Eyewitness News, Amos Kevin-Annan insisted that his call on the President was crucial because per his research, President Mahama's association with Andrew Solomon, a celebrated gay activist, raised several unanswered questions.
"I was saddened when I realised that he is closely associated with the presidency of the Republic of Ghana... If we find out that somebody is going close to the presidency, it is something that we have to raise serious eyebrow and watch closely. That is why I think we need to call on the President. It is important for us to role model and role model appropriate" he noted.
Meanwhile, Robert Apori Amoafo, Programs Manager for the Human Rights Advocacy Center has critiqued Pastor Kevin-Annan's stance indicating that it is erroneous.
In his opinion, it was imperative for him to realize the difference between gay rights and human rights, as the two were different concepts.
"Why won't he look at how we are going to learn from his (Andrew Solomon) lobbying skills but rather looking at the homosexuality part of him... Every human being has the right to association."
"Does a gay have the right to live, to work, have shelter, have access to basic health facilities and participate in public activities?" he questioned.