2012 National Best Farmer calls on Greater Accra Regional Minister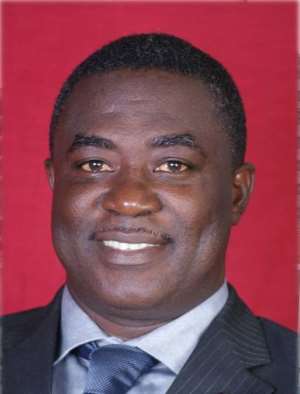 Nii Afotey Agbo
Accra, Jan 31, GNA - Nii Laryea Afotey Agbo, Minister for Greater Accra, has expressed his commitment to ensure that all national best farmers are given diplomatic passports for easy farming negotiations and discussions outside the country.
He said it was high time farmers were given the needed recognition in the country since they contributed massively to the socio-economic development of the country.
Nii Agbo made this observation when the 2012 National Best Farmer, Mr Lemuel Kwashie Martey paid a courtesy call on him, on Wednesday in Accra.
He said national best farmers were to be given much recognition and allowed to enjoy diplomatic status in order to make it easy for them to move across the world to discuss and negotiate better farming terms on behalf of the country.
He commended the national best farmer on his success, saying it was a delight to see a native of Accra, taking the position, when the event was organised and hosted by the Region.
'It is always a privilege to have farming as a backbone of success, adding that most successful and prominent individuals in the country were mostly farmers'.
He urged him not to relent in his efforts, but work harder in order to gain good yields as well as gain international recognition in the near future, to promote his image and that of the country at large.
Mr Lemuel Kwashie Martey said he was grateful for the warm reception given to him by the Minister and was forever grateful for the honour done him as a result of his hard work over the years.
He congratulated the Regional Minister for retaining his seat in Parliament for the third time and appealed to him to assist in solving the issue of land guards around his farms.
Mr Martey noted that for some time now he had been battling with the issue of land guards and other developers encroaching his 183 archer maize farm around Mataheko in Accra, and efforts to put them to a stop had proved futile.
He said, 'developers have connived with some Police men at Mataheko, and destroyed about 26 acres of my maize farm. I have been moving from one police station to another and its becoming too much, I cannot bare this anymore'.
He noted that in Ghana most people did not recognise farming and would not want to venture at all into it, but the activities of these people would rather worsen the situation and deter the youth from venturing it to farming, since their security would not be guaranteed.
GNA