Court jails Kente Weaver for defilement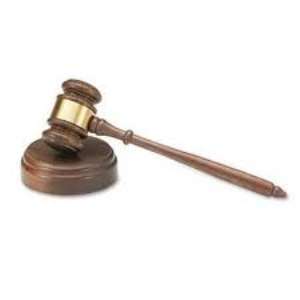 Court Hammer
Agbozume (V/R), Feb. 1, GNA - A 13-year- old girl escaping from an assault from her step-father at the midnight of last Monday, ended up being defiled by Koene Gadzanaki, a 19-year-old Kente Weaver at Klikor in the Ketu South Municipality.
While Gadzanaki had gagged and was defiling the victim, in an uncompleted building, his accomplice Bright Kudalor, 22 also a Kente Weaver kept guard.
An Aflao Circuit Court sentenced Gadzanaki, to 10 years imprisonment in hard labour for defilement, while Kudalor received seven years jail term in hard labour for abetment of the crime.
They both pleaded guilty.
A source close to the Agbozume Ghana Police Service told the Ghana News Agency that the victim, a basic school pupil lived with her mother and step-father at Klikor where the suspects, also stayed.
The source said at about 2300 hours on January 21, the victim's step-father accused her of not honouring his order to pack some dried coconuts to compound of their house and threatened to beat her.
Mindful of previous assaults, the girl fled to take refuge at her cousin's house and on her way met Gadzanaki and Kudalor who ordered her to stop.
He said the victim who refused the order was pursued by the two men who accosted her and ended up being defiled by Gadzanaki.
The source said after her ordeal the victim narrated the incident to his cousin who reported the matter to the Police who arrested the two in their houses not far from the crime scene.
GNA