Suspected robber remanded in Kumasi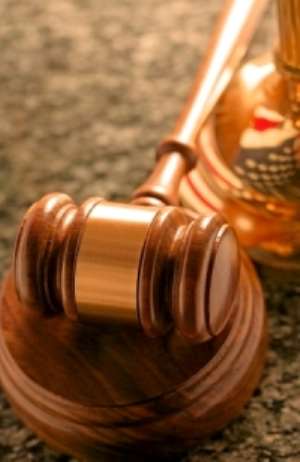 COURT GAVEL
Kumasi, Jan. 30, GNA - A Kumasi Circuit Court has remanded a 19-year-old resident of Bantama in Kumasi into prison custody for allegedly terrorizing and robbing his neighbours with his gang.
Eric Mensah Bampoe pleaded not guilty to possession of fire arms without authority and robbery.
He is to come back again to court on February 25, 2013.
Meanwhile, his two accomplices (other gang members) are at large and Police are making frantic effort to bring them to book.
Police Inspector Kwabena Oduro Boateng told the Court presided over by Justice William Boampong that Bampoe and the two in recent times had been robbing residents of Bantama.
On January 22, at about 0100 hours the timely intervention of the Assemblyman in the area, saved a woman from being robbed by the gang.
In this particular instance, Bampoe in a rare show of bravery, escaped from the scene amid firing of warning shots to scare away neighbours who wanted to arrest him.      
On January 28, at about 0030 hours Bampoe, again with his colleagues, armed with locally-made pistols, attacked one Adu Gyamfi Bossman, a trader and resident of Bantama, who was then going home from town. They took away his two mobile phones as well as a cash of GH¢1,800.00 and bolted.
The Assemblyman on hearing this mobilized some residents and mounted a search for the perpetrators. Luck ran out of Bampoe and he was the only one arrested in his hide-out at about 0800 hours at a school in the area as his accomplices escaped.
A search on the spot uncovered one locally-manufactured pistol and he was handed over to the Police.
He led the Police to his room and a search revealed additional two pistols.
In his caution statement, he alleged that the guns were given to him by one Yaw Gadaffi, who had travelled. Bampoe was then charged and put before court.
GNA