Oye Lithur urges societal debate on acceptability and criminality of gay practice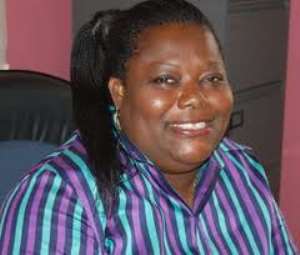 Nana Oye Lithur1
Accra, Jan 30, GNA - Nana Oye Lithur, Minister-designate for Gender, Children and Social Protection, on Wednesday maintained that the rights of gays should be protected because the Constitution guaranteed it, insisting that society should debate on the acceptability or criminality of that sexual orientation.
Asserting that her opinion on homosexuality and lesbianism remained personal, the renowned human rights lawyer and advocate said her calling demanded that she defended the fundamental rights of every Ghanaian irrespective of their creed, gender and sexual preferences.
Nana Oye Lithur was responding to questions posed to her by members of the Appointments Committee of Parliament seeking her views on the gay rights debate when she appeared for vetting.
Members of the Committee repeatedly quizzed her on the issue, insisting that her nomination had irked the public who contend that her stance on gay rights negated the position of the country on that issue.
Her nomination by President John Mahama was met with public outcry, particularly religious bodies and leaders, who petitioned the Appointments' Committee to express their reservation on her nomination.
Nana Oye Lithur stated that even though Ghana's customary laws did not accept the practice of homosexuality and lesbianism, the Constitution was supreme in ensuring their rights because it had not criminalised that inclination.
She denied that she had advocated for the legalization of homosexuality and lesbianism, but was educating Ghanaians that bisexuals had the same rights as straight people.
On the Right to Information Bill, Nana Oye Lithur noted that that piece of legislation would deepen democracy and that it was importance that it was passed, stressing that she would utilize her advocacy skills when given the nod as a Minister to press for the passage of the Bill.
She also promised to pursue interventions that would protect and ensure the rights of the deprived and marginalised in society, assuring also that she would engage community participation in changing some customary practices that infringed on the rights of people, particularly women and children.
Nana Oye Lithur told the Committee that she had not lent herself to any political persuasion, and that she only accepted her nomination to that Ministry because she believed and fully supported the 'Better Ghana Agenda', which she said would guarantee accelerated development and better standard of life for Ghanaians.
'I am not a politician but I believe in the Better Ghana Agenda and vision of President Mahama,' she said.
The Committee, however, asked Nana Oye lithur to re-submit an abridged curriculum vitea to the House, citing over-elaboration and conflicting information in the 18-page CV that made it difficult to appreciate.
Dr Joseph Oteng Adjei, Minister-designate for Environment, Science, Technology and Innovation, who was also vetted held that he would pursue the application of science to accelerate the rate of Ghana's development.
He said the Environmental Protection Agency (EPA) would be strengthened to tackle the environmental problems in Ghana and he would ensure that structures and existing laws are fully utilised to deal with and deter people and practices that degraded and polluted the environment.
The vetting process was a one-sided affair as the Minority stuck to their guns and absented themselves from the process.
President Mahama has sworn into office the fist batch of seven ministers whose nomination were approved by Parliament yesterday Tuesday.
GNA