Calm prevails at Supreme Court premises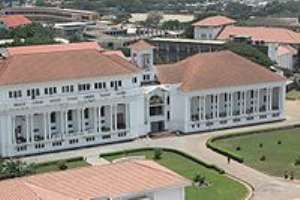 Supreme Court of Ghana
Accra, Jan. 29, GNA - Calm prevailed at the premises of the Supreme Court on Tuesday as the court continues hearing of the petition of the New Patriotic Party (NPP) challenging results of the 2012 presidential polls, as declared by the Electoral Commission.
As at 0940 hours, the Ghana News Agency (GNA) observed that there was heavy security in and around the court premises to curtail any unforeseen contingencies and also to ensure peace and order.
Police personnel were spotted at vantage positions outside the court premises, while the pavement that stretched from the Kwame Nkrumah Mausoleum through to the Commission on Human Rights and Administrative Justice building traffic light to the Supreme Court gate was barricaded.
GNA noticed that unlike previous sitting when scores of party supporters besieged the court premises and its environs to observe proceedings, people were seen going about their normal duties.
However, some few individuals stood afar-off at vantage points, to observe the unfolding legal battle between the NPP, President John Mahama, and the Electoral Commission.
The Deputy Superintendent of Police (DSP) Freeman Tetteh, Accra Regional Police Public Relations Officer, said the tight security was necessary to ensure that nobody was allowed to stand within the premises of the court while the proceedings were ongoing.
'We had to screen everybody entering the premises of the court to ensure that only officials as well as media personnel with accreditation to cover the proceedings are allowed inside the court' he added.
DSP Tetteh said the public was cooperative and adhered to police directives because of the earlier warning to members of political parties not to troop to the court premises if they have no business to do there.
He said the police would not leave anything to chance in securing the entire Supreme Court premises as well as providing adequate security for any person within the premises.
DSP Tettey advised the public to continue to cooperate with the police and 'should not temper with security arrangements till the case is over since the police will continue to be solid in discharging its duties as peace officers."
Mr Kofi Peprah a passé- by said though his party was in court, his focus was on the victory of the Black Stars, and expressed the hope that the verdict on the case would be in favour of his party.
Some of the people GNA spoke to expressed confidence in the Judiciary and said that the outcome of the proceedings will be the real reflection of the people's mandate.
They said there was no need for people to throng the court premises because people could get information on the hearing from the media.
GNA