Boko Haram 'ceasefire' claim spurs debate in Nigeria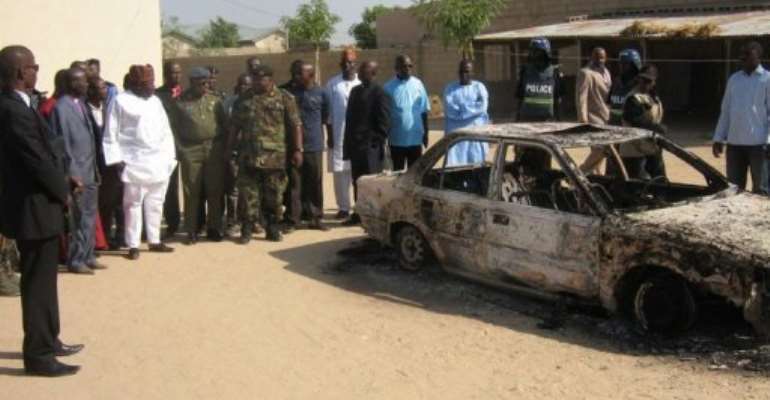 LAGOS (AFP) - A ceasefire declaration from a man claiming to represent Nigerian Islamist extremist group Boko Haram spurred intense debate on Tuesday over whether he was a fraud or capable of helping to bring peace.
The man identifying himself as Sheikh Muhammed Abdulazeez Ibn Idris spoke with journalists in Maiduguri, the heart of Boko Haram's insurgency, on Monday, declaring a ceasefire as a prelude to dialogue.
But the same person has previously spoken of dialogue and his efforts have failed to curb the violence that has left some 3,000 people dead in northern and central Nigeria since 2009, including killings by the security forces.
A previous intervention in early November met with deep scepticism in Africa's most populous nation and largest oil producer, but some said Tuesday that his offer may be worth pursuing at least as a start to resolving the conflict.
His comments on Monday, during which he identified himself as a Boko Haram commander, have sparked speculation over whether he indeed represents anyone and if he is capable of at least reducing the violence, particularly in Borno state, where Maiduguri is the capital.
He claimed to have had meetings with the Borno state government, and a spokesman for Governor Kashim Shettima signalled that it had been in some type of discussions with the aim of avoiding "endless war".
An aide to Nigerian President Goodluck Jonathan called the announcement a "step in a good direction".
"It's a welcome development," Doyin Okupe told reporters. "The government is studying the issue properly ... I believe once the conditions and terms are right, the government will dialogue."
A spokesman for a military task force based in Maiduguri issued a statement calling the declaration a "welcome development".
"Conflicts are resolved through dialogue," Lieutenant Colonel Sagir Musa said, while adding that the military would continue to carry out its operations.
Boko Haram has long been viewed as nebulous with a variety of factions and an unclear structure, while unrelated criminal groups and imitators are said to carry out violence blamed on the group.
Its main leader is suspected to be Abubakar Shekau, whose whereabouts are unknown although he has occasionally appeared on videos posted to YouTube and recently on jihadist forums. He has repeatedly ruled out dialogue.
Boko Haram members are believed to have travelled to northern Mali for training with Al-Qaeda in the Islamic Maghreb, but it is not clear whether more substantive ties have been formed.
The "commander" who spoke on Monday claimed to be under Shekau's leadership.
Some have suggested that dialogue should lead to an amnesty deal similar to what occurred in the oil-producing Niger Delta region in 2009, which resulted in huge payouts to militant leaders -- and which could obviously provide an incentive for seeking talks.
The government has also been under heavy pressure to show progress in the fight against Boko Haram, and the military has been accused of major abuses in its crackdown.
Shehu Sani, a rights activist who has previously sought to arrange dialogue between Boko Haram and the government, cast doubt on the self-declared commander's influence.
"The ceasefire that was announced was announced by a so-called faction of the Boko Haram group," he said. "To me, that faction does not have the potency and the capacity to bring an end to the violence."
Kyari Mohammed, who heads the Centre of Peace and Security Studies at Modibbo Adama University of Technology in northeastern Nigeria and who has studied Boko Haram closely, said he believed the "commander" represented someone.
He said it was worth pursuing dialogue with him, but doubted the federal government would "buy in" to the process, which might include releasing high-profile Boko Haram members from prison.
Kyari said he believed the government would remain heavily influenced by the military, which he thinks would be opposed to true dialogue.
"Without releasing people -- high-level people -- in captivity, I don't think it will go far," Kyari said. "For me, the federal government will have to take the gamble if they want any form of peace."