Prez Mahama has nothing to do with $80m gold seized in Turkey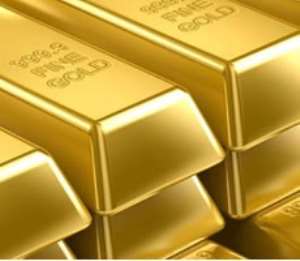 Managing News Editor of the Herald Newspaper, Larry Alance Dogbe has distanced President John Mahama from an $80 million gold seized in Turkey.
According to him, investigations conducted by his outfit show that the gold had nothing to do with the president and that the president's trip to Turkey last week in the wake of the seizure was purely coincidental.
His comments come after the media reported that about 80 million dollars worth of Ghana's gold being transported to Iran was seized at a Turkish airport.
Turkish News Agency, Anatolia had reported that the plane transporting the gold was grounded for lack of proper documentation.
But speaking on Joy FM's Super Morning Show Tuesday, Larry Alance Dogbe said "the gold had nothing to do with the President," adding the president's trip to Turkey and the incident was "purely coincidental."
He said their investigations, which were not on the transaction itself but how the gold came and landed in Ghana, show that the gold landed in Ghana due to "a purely business transaction between a private company and an individual who is a gold dealer in Dubai."
The Herald Newspaper Editor said the "gold was going to Dubai and not Iran," and that, "the aircraft that was carrying the gold bars came from Tripoli."
He noted that one John Amegame, an officer who was working for Omanye Gold Mining Limited, dealers in precious minerals, who were handling the transaction "put in a request for the aircraft to land here in Ghana from Tripoli so they made the arrangement somewhere on 27 December 2012."
The request, he said, was made to the Ghana Civil Aviation Authority and "Civil Aviation gave them the necessary permission to land here."
According to Larry Alance Dogbe, the aircraft carrying the gold, landed in Ghana on December 28 and within 72 hours, it left Ghana for Istanbul enroute to Dubai, its intended destination and that, the gold on board belonged to one Irani- Azerbaijan businessman.
He refuted the Danquah Institute allegations that the gold was meant as settlement to Iran.
"Ghana doesn't have international transaction with Iran," he said adding, "there is nothing clearly to show what exactly Ghana is paying for with the gold and we've been told that Ghana does not use gold to settle its transaction and commitments with countries."
He alleged that authorities have been trying to track two persons, Fredrick Kwadwo Asuman and Peter Kofi Bedzrah, who are registered owners of Omanye Gold Company, to assist investigations.