School Children Receive Shoes From Bright Generation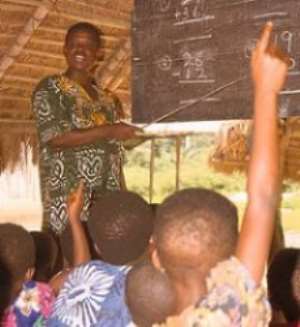 The Chief Executive Officer of Bright Generation, Miss Bernice Dappah, has presented 1000 top shoes, text books, pens, uniforms and pencils to needy primary school children in the Bunkpurugu/Yunyoo District.
Among the items presented were sanitary pads and shoes which were also donated to 25 students in Girls Secondary Schools in the District.
In a speech delivered by the CEO, she indicated that Bright Generation is a Community Foundation (NGO) which has a lot of commitment to support the Millennium Development Goals and complement the National Free School Feeding and Free Uniforms for Needy Children in Ghana.
According to her, this is amongst other reasons why Bright Generation has instituted the National Free Shoes and Educational Supplies for Needy Children.
"Our aim is to ensure that we engage all the deprived districts where the current free school uniform program is being implemented. In doing this, we hope to inculcate in the school children at an early age, the spirit of patriotism in order to give back to society.
…Let me draw your attention to the fact that we would be bringing on board , the Wangari Maathai Two Million Trees Campaign in line with this project, which we hope to give each beneficiary two trees to plant so that by the time we finish distributing our one million shoes, two million trees would be planted by the school children in the district we operate in," Miss Bernice Dappah stressed.
Madam Bernice further mentioned that, one of their objectives is to enable these needy children to be empowered to plant trees in other to soak up carbon dioxide from the atmosphere mitigating the effects of our climate change and creating buffers to cope up with the climate changes in the country.
She disclosed that, they would soon come out with a De-worming Program for school kids across the selected District; this she said is aimed at treating soil transmitted worm infestation which causes a host of serious health problems and often prevents children from attending school.
In a remark, The District Chief Executive for Bunkpurugu/Yunyoo District, Hon. Philip Laari, in a speech thanked the CEO and the entire staff of Bright Generation for their assistance.
He admitted that the district is faced with several challenges across the sectors and not only education.
"Our schools, especially the primary schools have a lot of needy students whose parents cannot even afford to buy ordinary text books for them."
This has been my concern as the DCE for the area. I have been doing my best with the office of the GES in the District, but we are not able to bring the situation to a comfortable state.
Mr. Daniel Waab who is a senior officer at the GES in Bunkpurugu read the speech on behalf of the DCE. He was also there to represent the District Director of Education.