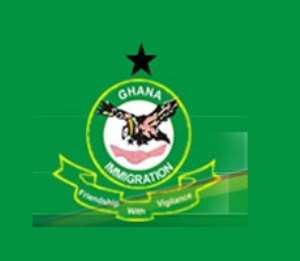 http://www.dailyguideghana.com/wp-content/uploads/2013/01/ghana_immigration_service.jpg The history of the appointment of superior police or military officers as heads of security agencies such as the Ghana Immigration Services (GIS), Ghana National Fire Services (GNFS) and the Customs, Excise and Preventive Service (CEPS) is as old as coup d'états in Ghana.
Anachronistic as it might be, it still features in democratic Ghana, with CEPS, GNFS and GIS incessantly headed by police and military officers to the umbrage of not only personnel of the organizations but observers who continue to wonder why the practice is still favoured by civilian heads of state.
Following the aberrations of coups in our body-politic, the military officers leading the juntas appointed soldiers to head such organizations to, as they put it, cleanse such places of mismanagement by civilian heads. Instructively though, such appointments have done little or nothing in the way of enhancing the fortunes of such state organizations.
The aberrations appear to be nearing their end, with personnel of the GIS leading the way for their compatriots in the other services to emulate for their own good.
One of the stories in the Daily Guide issue of yesterday had it that personnel of the GIS are grumbling about the likely appointment of a police officer to replace DCOP Wiredu, their current head, who would soon retire from active service. So why would government seek to maintain the status quo?
The answer might not be far-fetched. It might be a way of keeping some top police officers busy elsewhere as opposed to their dull or virtually empty schedules at the Police Headquarters. Put alternatively, it seeks to make redundant officers busy.
Cynics see the transfer of such officers differently: it is an avenue for such officers to make some more bucks for themselves before marching off the square of the regimented career.
The reasons behind such obnoxious decisions are not supportive of the long-term interest of the security agencies and should therefore be stopped forthwith.
It is a morale dampening practice about which personnel have complained since the practice was adopted by successive governments.
Career firefighters or customs officers all eye reaching the pinnacle of their professions and would certainly abhor a situation where a police or military officer would be seconded to head their organizations. The subtle demeaning of the performance of those in these services is a travesty.
Let us adopt measures, not those we are despising now, that would encourage our compatriots in other security agencies outside the police and the military, to build the necessary self-confidence that would serve the interest of the work they do.
What has an infantry officer got to do with managing fire tenders or even collections of CEPS across the country other than supporting bad governments to fleece the state in concealed forms?
We pray the President listens to the grumblings of the GIS, GNFS and CEPS personnel.