Bolin-Lana's palace at Yendi under siege from military/police men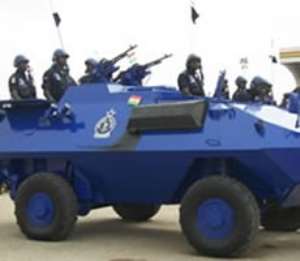 Members of the Abudu Royal Gate of the Dagbon Kingdom are reporting that gun-wielding military and police men have laid siege to the palace of their spiritual head, the Bolin-Lana.
The action is believed to be in connection with the decision of the Bolin-Lana to celebrate the Damba Festival in spite protestations from the Andani Gate.
The Secretary to the Abudu Gate, Mr. Abdalla Saddique, told Joy FM's Super Morning Show the siege started at 3am Monday.
He claimed the Yendi Metropolitan Chief Executive, Mr. Issa Zakaria had told the Andanis to bate their breath for the authorities would make sure a military/police team invades the Bolin-Lana's Palace to restrain him from any further actions.
Mr. Saddique said when he heard the information Sunday, he immediately contacted the Yendi Bureau of National Investigations as well as the Police Command there but officials denied any knowledge of plans to invade the Bolin-Lana's palace.
He said the officials declined to answer his calls when he contacted them again after the siege started.
The siege, he said, is causing great discomfort for members of the Abudu family living in the palace because they can neither leave nor enter the palace.
The Yendi police have yet to comment on the matter.
The Member of Parliament for Yendi, Alhaji Habib Tinaji has however confirmed the action of the security agencies but said no reasons were stated.
He said all military and police spokespersons and commanders had turned off their mobile phones and that it was practically impossible to find out why the Bolin-Lana's palace had been put under siege.