6 dead as riots rock Egypt's Port Said for second day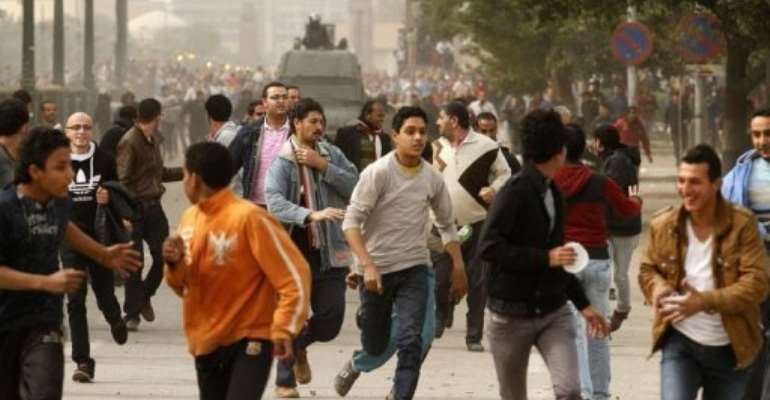 CAIRO (AFP) - Rioting sparked by death sentences passed on fans of a local football team rocked Egypt's Port Said for a second straight day on Sunday, leaving another six people dead and more than 460 injured, medics said.
Crowds attempted to storm three police stations in the canal city and others torched a social club belonging to the armed forces, looting items inside, security officials said.
The latest casualties, among the six a teenager shot in the chest, add to the toll of 31 people including two anti-riot police killed in the Mediterranean city on Saturday.
Clashes also broke out Sunday in Cairo between police and protesters who accuse President Mohamed Morsi of betraying the goals of the revolution that ousted Hosni Mubarak two years ago, highlighting deep political divisions in the country now ruled by Islamists.
State television said Morsi would address the nation later Sunday.
The rioting in Port Said began on Saturday after a Cairo court handed down death sentences on 21 supporters of the local football club, Al-Masry, in the wake of football violence in 2012 that left 74 people dead.
Minutes after the sentences were passed, protesters attacked police stations and set tyres alight. Relatives of those sentenced to death clashed with security forces as they tried to storm the prison where they are being held.
Residents of the canal city on Sunday carried out the grim task of burying those killed the previous day, with bodies wrapped in white shrouds being carried in open coffins by a sea of mourners along the city's main avenue.
"Our city is being hit by the interior ministry!" and "Down with Brotherhood rule!" chanted the crowd, referring to the Muslim Brotherhood from which Morsi draws his main support.
A brief burst of gunfire sent mourners running in several directions amid chaotic scenes, which later degenerated into rioting again.
In Cairo, angry anti-riot policemen barred Interior Minister Mohammed Ibrahim from attending the funeral of their two colleagues killed in the Port Said clashes of Saturday, the official news agency MENA reported.
The action was taken in protest at police not having been armed with live rounds to protect themselves, it said.
Clashes during the night in Cairo near Tahrir Square -- symbolic heart of the 2011 uprising that ousted Mubarak -- continued sporadically during the day and into Sunday evening, witnesses said.
Demonstrators briefly blocked the 6 October bridge, a vital link between east and west Cairo, as well as a metro line, they said.
The US and British embassies, located just minutes from Tahrir Square, closed their services to the public for the day.
Unrest also erupted on Sunday in Suez, another canal city, where protesters surrounded a police station, lobbed Molotov cocktails at security forces and blocked the road leading to the capital, security officials said.
The opposition, meanwhile, threatened to boycott upcoming parliamentary polls if Morsi did not find a "comprehensive solution" to the unrest.
The National Salvation Front, the main coalition of parties and movements opposing the ruling Islamists, said it would "not participate" in the polls unless a "national salvation" government was formed.
Egypt's national defence council, which is headed by Morsi, appealed for calm and called for a dialogue with "independent national figures" to agree on a mechanism for the polls.
Egypt's top cleric must ratify Saturday's verdicts, as is customary. The sentences are also subject to appeal. Verdicts will be announced on March 9 for another 52 defendants, including nine police officers.