Mozambique flood toll rises to 40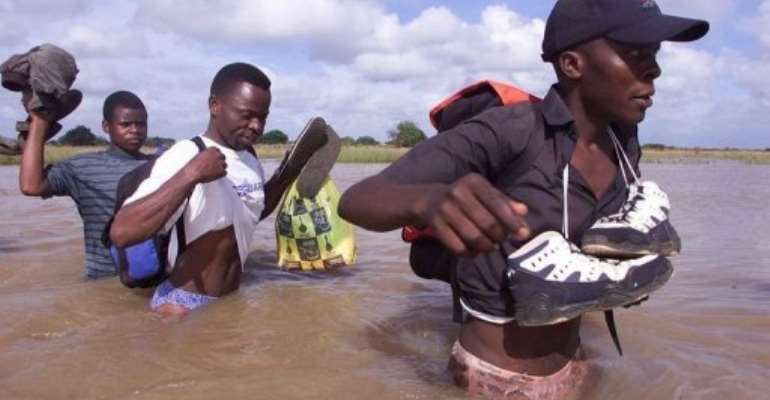 CHOKWE, Mozambique (AFP) - The death toll from heavy flooding in Mozambique climbed to around 40 on Sunday after four more bodies were discovered in the worst-hit southern town of Chokwe, its mayor said.
"They found four bodies in the last 24 hours," Jorge Makwakwa told AFP, adding that Chokwe's flood-ravaged streets were littered with rotting animal carcasses.
"I am mobilising workers to remove the bodies but we need masks and gloves," he said.
According to a toll from the United Nations on Friday, the severe flooding in the impoverished country had killed at least 36 people and displaced nearly 70,000, most in the southern province of Gaza.
The deadly floods, which have also hit neighbouring South Africa and Zimbabwe, are the result of days of torrential rains this month that swelled the Limpopo river.
UN agencies said on Sunday that 23,000 families had sought shelter in camps in Gaza and the World Food Programme had begun feeding some 75,000 flood-affected people.
UNICEF said it had set up three field hospitals and was broadcasting radio messages urging locals to take basic hygiene measures to ward off diarrhoea and cholera.
While the Limpopo river started to recede in Chokwe on Sunday, the 9,000 residents who had stayed behind were in urgent need of clean water and food, mayor Makwakwa said, as a major clean-up operation got under way.
While some tried to salvage what they could and laid their possessions out to dry, others walked through the streets inebriated, having helped themselves to alcohol in flood-damaged stores, an AFP reporter on the scene said.
With relief efforts focused on the camps, some locals said they were struggling to get their hands emergency supplies.
In the village of Guija, children told AFP they had had no water or food since Wednesday, while a doctor said two mothers had given birth on rooftops after they were marooned by the rising waters.
Mozambican authorities were also scrambling to protect the partly inundated coastal tourist city of Xai-Xai on the Limpopo river, where some 45,000 people were thought to be at risk from the deluge, Rita Almeida, a spokeswoman for Mozambique's Disaster Relief Management Institute, told AFP.
She added that helicopters would be dispatched to try to rescue those trapped by the floodwaters.
"Our biggest priority is to reach the people (who have taken refuge) in trees," she said.