Accra, Eastern and Central regions in darkness after fire guts ECG supply point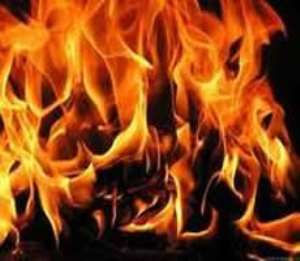 The entire Accra Metropolis, parts of Eastern and Central regions are currently in total darkness as a result of a fire-outbreak at the Electricity Company of Ghana (ECG)'s Bulk Supply Point at Achimota.
The power outage is as a result of fire which gutted the bulk supply point of the ECG in Achimota around 17:00hrs Saturday.
Two transformers which supplies electricity to these areas have also been burnt.
Director of Operations at the ECG, Tetteh Okine told Joy News the fire gutted a common supply point where ECG takes power from GRADCO to serve customers.
As a precautionary measure, the ECG, he said has suspended power supply to areas in the three regions but failed to give when power will be restored.
As news time, personnel from the Ghana National Fire Service were still battling the fire.