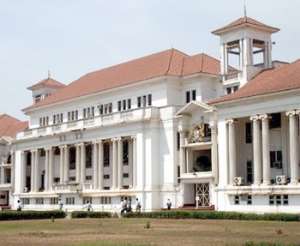 http://www.dailyguideghana.com/?attachment_id=72013 When the rule of law is allowed to prevail, arbitrariness is held in check and good governance remains a profound feature.
No wonder it is largely despised by dictators who are too eager to abuse state institutions and render them useless to promote their agendas.
When the Supreme Court ruled against two NDC politicians last Wednesday as they sought to reverse an earlier decision by the highest court of the land, those who regarded the rule of law as a mere abstract situation were compelled to reconsider their stance.
The verdict coming on the heels of questions being posed by a cross section of Ghanaians as to whether the court can be trusted to deal with the electoral petition lying on its bosom in a decisive manner is auspicious.
The decision of the court, for us thus, is not only important in the light of the NPP Chairman laughing last but in the fact that Ghanaians who appear to have lost faith in the judiciary would begin to understand that that is not the order. The judiciary is therefore not made up of a bunch of complaisant lot.
With ample evidence unambiguously presented, our judiciary can be counted upon to adjudicate without fear or favour.
Like other human institutions of state, the judiciary also has its challenges but that is not to say that a blanket condemnation of this arm of government should be countenanced.
The judiciary as the bulwark against the kind of arbitrariness common in some politically backward countries can only be confined to the pages of our history when all of us including the bar and bench join hands to make our institutions not only work but work more efficiently.
We are longing for the day when the cynicisms with which some of us regard our institutions such as the judiciary give way to trust and confidence.
Although we are still many years, not light, away from that state, it is our belief that with a common resolve to arrive at that destination, there is no reason we cannot.
We recall worryingly how our common resolve to protect our state institutions and water them to grow was dealt a near fatal blow when government, even after an earlier court decision, stated that it was aborting the transaction the state and Mr. Jake Obetsebi Lamptey had consummated.
It was an unfortunate decision by the then Atta Mills administration feeding the fears of those who did not have confidence in the government.
The petitioners must respect the ruling unless they want to be cited for contempt of the highest court of the land.