Mali Islamists destroy key bridge to thwart new offensive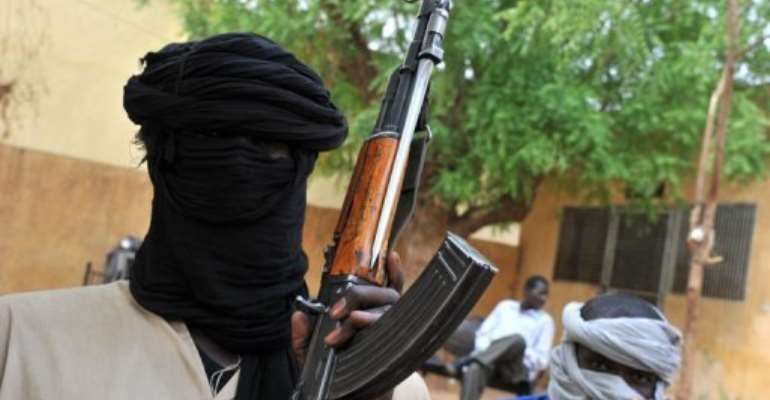 BAMAKO (AFP) - Islamists have destroyed a key bridge linking eastern Mali to neighbouring Niger from where African troops are planning to open a new front, sources said Friday, as a French-led offensive entered a third week.
The overnight strike on the bridge at Tassiga cut the shortest road link to the Islamist stronghold of Gao, and comes after French warplanes bombed Islamist bases in the surrounding area early Thursday.
Gao lies some 150 kilometres (95 miles) from the Niger border in eastern Mali, where more than 2,000 Chadian soldiers and 500 troops from Niger are being deployed to open a second front against the Islamists from the east.
"The Islamists dynamited the Tassiga bridge. No one can pass to Niger or come to Gao," said the owner of a transport business, Abdou Maiga.
A security source from Niger confirmed the strike. But a longer land route from Niger to Gao is still open further east which bypasses the bridge.
Thursday's bombing of targets outside Gao destroyed two of the insurgents' bases, their fuel supplies and an armoury.
The French-led drive to rout Islamists in northern Mali entered a third week as west African defence chiefs planned to review progress on the limping deployment of their forces to Mali at an emergency meeting in Ivory Coast on Saturday.
The Economic Community of West African States has pledged more than 4,500 soldiers to help Mali retake its Islamist-occupied north, but the deployment has been delayed by financing and logistical problems.
An additional 2,000 soldiers from Chad, which is not an ECOWAS member, are also to be deployed.
The Paris-led offensive has resulted in the recapture of central towns seized by the Islamists but has not yet made any inroads into the desert north.
Extremists seized Gao, along with two other key northern Mali towns, Kidal and fabled Timbuktu, 10 months ago, sparking fears that the vast zone could become an Afghanistan-like haven for terrorists.
French aid group Action Against Hunger (ACF) warned that the opening of a new front in the east of the landlocked country could worsen an already dire food situation in the remote area.
It raised fears "that an armed ground intervention from Niger will cut the last access route to supply basic goods (food and medicine) to people in the region," a statement said.
"There are clearly cases of acute malnutrition," said ACF official Lucile Grosjean, adding that it affected about 20,000 children under 15.
She said the price of the staple cereal millet had increased by 38 percent, while fuel has shot up to 66 percent in the past nine months.
"People are surviving on a day-to-day basis," she said.
France's surprise decision to intervene on January 11 has received broad international support, but there has been increasing alarm about reports of rights abuses by Malian soldiers against ethnic Tuaregs and Arabs.
The International Federation of Human Rights Leagues said at least 31 people had been executed in the central town of Sevare, and some bodies dumped in wells, according to local researchers.
Human Rights Watch said witnesses had reported "credible information" of soldiers sexually abusing women in a village near Sevare.
French and Malian troops staged joint patrols for the first time in the east after the bombardment of Islamist bases near Gao, a Malian military source said, adding: "It's a first" in the region.
Mali's crisis began last January when the Tuareg desert nomads revived a decades-old rebellion for independence of the north, which they call Azawad.
They allied with hardline Islamists and seized Kidal, Gao and Timbuktu in a matter of days. The Islamists later broke with the Tuareg and imposed brutal sharia law in the towns under their control.
Cracks emerged in the rebel front Thursday when a faction announced it had broken away from Ansar Dine (Defenders of the Faith).
The newly formed Islamic Movement for Azawad said in a statement it "rejected all forms of extremism and terrorism and was committed to fighting them," adding that it wanted a "peaceful solution" to the crisis.
The group, which said it was composed entirely of Malian nationals, called on Mali and France to cease hostilities in the zones it occupied in the northeastern regions of Kidal and Menaka.