They Never Put Ghana First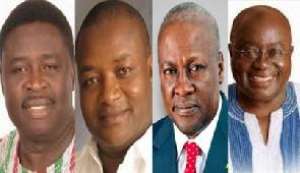 No, not at all! No Ghanaian politician thinks about Ghana the way they claim. They only come to seek our vote just to make better lives for themselves, their family and the few people around them. I dare all political leaders in the country to come out and prove me wrong.
The fat salaries they are taking at the expense of the poorest person in the country is very pathetic. Has anyone thought of the cost of dialysis? How about the cost of vaccination for hepatitis B? How are the Kumasi-Accra road users feeling?
I live in Kumasi so I would like to cite the dust in and around Pankrono Estate and Moshie Zongo as a result of the 'untarred' road in the area. Have we thought of the dust at Sofoline? How long does it take to construct an interchange like the one at Sofoline?
If our honourable members say they really came in the interest of Ghana, then I challenge them to peg their salaries between GH¢1,500 and GH¢2,500 so that the remaining amount could be used to subsidize the cost of dialysis, the cost of vaccination against hepatitis B and all other expensive treatment of ailment of their kind. Ghanaians need good roads, good drinking water and good power supply. In fact, Ghanaians deserve better things.
Governments construct roads only to install toll booths on them in order to increase its revenue. They intentionally create so many ministries so that they can satisfy party faithful with ministerial appointments at the expense of the tax payer.
Maternal mortality is on the ascendency, they never think of a solution to that. Their wives and family members travel abroad for medical treatment. Their children attend school abroad so the exorbitant school fees we pay in the country is no case to them. They quickly offer job opportunities to whom they know.
At certain points in time, they pass laws to deprive people of their hard earned jobs. A typical example is the ban on the importation of used refrigerators and turkey tail (called in Ghana as Chofi). Yet they stand on tall podiums during campaign time and preach job creation.
The Bible tells us to respect those we elect to lead us. I haven't read that portion yet but I believe the good book will as well talk about leaders who subject their subordinates to massive hardship. GHANAIAN LEADERS, PLEASE AND PLEASE AGAIN, THINK ABOUT THE POOREST PERSON IN THE COUNTRY.
Judgment awaits us all.
RUDOLF THE PATRIOT
([email protected])