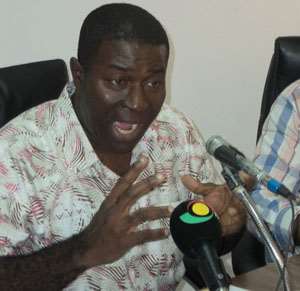 Nana Akomea
For the first time since its formation, the Alliance for Accountable Governance (AFAG), a pro-NPP pressure group, has taken a swipe at the opposition New Patriotic Party (NPP) for deciding to boycott yesterday's parliamentary vetting of ministerial nominees.
On Wednesday, AFAG released a press statement signed by its top hierarchy expressing shock at the decision.
The statement signed by Henry Haruna Asante, Mutala Mohammed, Arnold Boateng and Dr. Nana Ayew Afriye, all top ranking members of the group, described the NPP's decision as 'very parochial, unfortunate, extremely partisan and without due consideration of public interest.'
Following the heated contest between the NPP and the ruling National Democratic Congress (NDC) over alleged rigging of the December 7, 2012 presidential elections, the NPP has vowed to boycott key activities of the government until the Supreme Court decides on the election petition it filed at the court.
According to Nana Akomea, the Director of Communications of the NPP, the party would boycott any activity that could be affected should the Supreme Court's decision overturn the presidency of President John Dramani Mahama.
Public Interest
The NPP has received serious criticisms since it made public its intension. Critics think the decision was selfish and does not properly reflect the interest of the constituents of the NPP parliamentarians.
The NDC has been uncomfortable with the NPP's boycott; some hardliners in the NDC such as Bernard Allotey Jacobs called for the remunerations of the NPP lawmakers to be withheld if they went ahead to carry through their threat of boycott.
But Nana Akomea insists that the party is taking that decision as a matter of principle not to condone what the NPP regards as an illegitimate government of the NDC.
He concedes though that when bills and budget statements are brought to parliament for deliberation, the NPP lawmakers would make themselves available.
AFAG has asked the NPP to rescind its decision to boycott the ministerial vetting committee for the sake of public interest while waiting for the verdict of the Supreme Court.
'…The chief justice in whose court the case is being heard, for now, has sworn in the president, and her lordship's legitimate obligation has not been contested by the NPP.
Taking note also that, power abhors vacuum, it is only right for there to be a President; interim or otherwise,' the statement read.
'In this regard, if an arm of government (the judiciary) is determining the legitimacy of another arm of government (the executive) in a matter that the legislature (another arm of government) has no locus, then AFAG on this platform will like to remind the legislature of their sovereign role to represent the good people of their constituencies and not a party, though, they are there on a party's ticket,' stated AFAG.
By: Raphael Ofori-Adeniran