FAKE NIGERIAN PROPHET CLAIMS TO BE MESSIAH !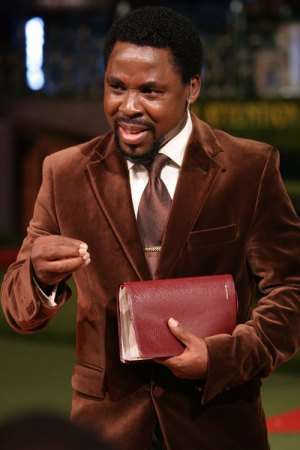 I find it necessary to write to you again to warn my fellow Ghanaians about the fake Nigerian prophet, T B Joshua, who has deceived many people, including some African leaders, and still continues to do so with impunity and arrogance because of the ignorance of the people. No matter what happens, some people would always be deceived because they refuse to learn and I have no tears for such ignoramuses, but for those who want to know the truth, let them check what I'm writing here with what the Bible says, so they could determine the truth for themselves. I want to refer readers to an article which appeared here, http://wp.me/p1hiQy-gg.
I was very disturbed when I read the said article and want to bring it to the attention of my fellow Ghanaians. We should not allow false prophets from other countries to come and deceive our people, because we have too many false prophets in Ghana already, and we don't need anymore. T B Joshua is by every means a false prophet and has now come out to say he is the messiah through his mouthpiece. Don't be deceived, and don't say T B Joshua is not the one who wrote the article on that blog, because the truth of the matter is that T B Joshua is the owner of that blog and is the one who dictates what they write concerning him. T B Joshua is a deceitful fellow who tells his workers to say and do things he wants, while pretending he doesn't know anything about them, but he is a liar, and I speak from experience !
The Bible warns us already that many false prophets shall arise and shall deceive many. Matt 24:11. Again, it says, " For there shall arise false Christs( Messiahs) and false prophets and shall show great signs and wonders ....Behold, I have told you before." Matt 24:24-25. In spite of these warnings, history is replete with many deranged people who claimed to be messiahs, because there is no fear of God in them and because some people are so stupid they'd believe anything ! And T B Joshua is the latest one to make such a stupid and irresponsible claim that he is the messiah. He tells his workers to write it on his blog and he pretends he doesn't know what's going on, but I tell you, he is the one who sanctions it all. T B Joshua is a great pretender and a deceitful fellow and it is time people know the truth.

To make a long story short, T B Joshua's claim that he is the messiah, is wrong, irresponsible and misleading to the many of the Lord's people who are ignorant of the Scriptures. T B Joshua imagines rather that just because he's adopted the name, " Emmanuel," in his church makes him the fulfillment of Scriptures, but he is a liar and a false prophet like the Bible says. Jesus Christ fulfilled over 100 prophesies concerning the Messiah, and is indeed the fulfillment of Emmanuel in Isaiah 7:14; Matt 1:23. " Emmanuel " means, " God with us," and Jesus was God with us when he came to this earth. He was God among us, both the Creator and the Redeemer and His blood is the propitiation of the sins of all mankind. 1 John 2:2. T B Joshua's blood is worthless blood that cannot redeem a chicken, let alone anyone. and his claim is to say the least, satanic and demonic. T B Joshua is just as deluded as the people he deceives and it is time Ghanaians know he is a false prophet, just like the Bible says.
A word to the wise is enough !
Nii Ayiku