NDC is not run on the whims and caprices of an individual - General Mosquito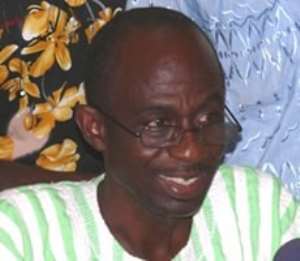 Johnson Asiedu Nketia
The General Secretary of the ruling National Democratic Congress (NDC), Johnson Asiedu Nketia says the spokesperson for former President Jerry Rawlings cannot stampede the National Executives of the party to allow him contest the Buem Parliamentary by-election.
Kofi Adams has accused some National Executives of the party he describes as "evil forces" of orchestrating to derail his plans of becoming a Member of Parliament (MP) on the ticket of the party.
The beleaguered Deputy General Secretary was disqualified from contesting the February 26 by-election because according to the NDC leadership, he [Adams] has not been reinstated as a party member.
Kofi Adams had his membership revoked last year following a leaked tape with a voice alleged to be his, promising to ensure the NDC led by the late John Mills did not secure a second term in office.
He went to court to challenge the party's decision but withdrew the case early this year.
With a new president in John Mahama, the aide to ex-first family was hoping the party will forget about the past differences and allow him contest the Buem seat which became vacant after the death of Henry Ford Kamel.
However, in an interview on Citi FM, General Secretary, Johnson Asiedu Nketia called the bluff of Mr. Adams describing his decision to contest the Buem Parliamentary by-election as an act of opportunism.
According to him, the party's National Executives have no interest in preventing Kofi Adams from contesting the Buem by-election but rather the NDC constitution debars him since he [Adams] has not been reinstated as a member.
"The party is not run on the basis of people's whims and caprices; we run the party on a set of laws and the laws are blind to individuals. It doesn't matter your height, weight or position, all of us are subject to the same NDC constitution" he opined.
He intimated that the suspended Deputy General Secretary who is a subject of an inclusive disciplinary proceeding cannot represent the NDC in Buem because "all his [Adams] rights to participate under the sponsorship of the have been extinguished".
General Mosquito as he is popularly called said until Mr. Adams is exonerated from the accusation by the party's disciplinary committee, he is not considered a member of the NDC.
He stated unequivocally that the National Executives will not amend the NDC Constitution to favour anyone.
General Mosquito urged Kofi Adams to quit the blame game and cooperate with the party for an amicable solution to the matter.