Dead baby washed ashore in Accra flood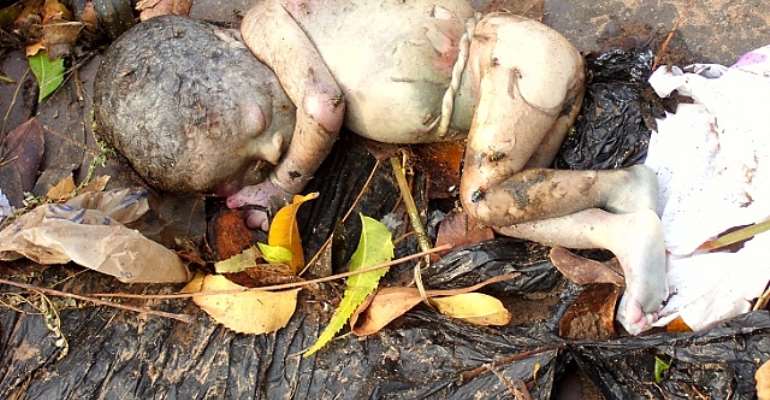 The aftermath of the heavy flooding on Tuesday night washed ashore a premature dead baby at the wee hours of Wednesday on a pavement at the Adabraka Official Town.
Many passersby stood in awe as they took glances at the deserted dead baby; with several others wondering what might have compelled the mother to kill the baby in such cruel condition.
The dead baby had the umbilical cord tied to its waist with its tiny legs crossed, whiles its feeble hairy hands folded across the lower section of the face. It is believed to be female.
The baby, supposed to be in the eighth months of conception was washed aground after the heavy downpour in most part of the capital carried several debris in its trail. Many shared the notion that, the unknown mother might have aborted the unborn baby and dumped it in the flood.
Whiles some onlookers were taking pictures of the scene with their phones and other devices, several others were in groups discussing the bizarre incident.
The bystanders clearly could not hide their emotions to what many of them described as a grave action on the part of the unknown mother.
Naaley, fruits hawker, who witnessed the incident observed, "It's painful, the baby is almost developed and the mother just perhaps aborted it, it is a big sin before the eyes of God. I know she would not be privileged to conceive another baby, I swear." Naaley, a mother of two commented as she virtually cursed the mother of the dead baby.
Speaking to Robert, a resident of Adabraka, he explained that he had been a witness to several remains after floods occur in the vicinity, but said that, a scene of a dead baby came to him as big surprise.
"I have never seen anything like this when the area gets flooded; we see debris of all kinds, but never for once did I see a dead baby except today. I am so shocked!" he exclaimed saying, "It is painful how the fate of an unborn baby could end in such terrible manner."
Andy, a father of a two-month old baby who chanced on the incident confided that if he knew a scene as horrible as that laid in his direction, he would have taken a different route. "Am sad and very disturbed, as young father I feel a great concern for this baby," he noted, saying, "This scene would definitely have a toll on me today and the days to come."
At the time of filing this report, a source at the Adabraka Divisional Police Station, hinted that a police team together with a representative of the Adabraka Official Town Assembly had gone to the scene to take the dead baby for entombment.
Story Collins Oppong
Social, Entertainment and Golf Journalist