Ghana Steps Up Efforts To Combat Illegal Fishing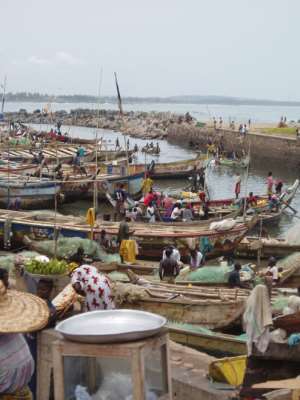 The United States is set to collaborate with officials in Ghana and nine other countries to address illegal, unreported and unregulated (IUU) fishing.
A report submitted to the US Congress January 11, 2013 by the US Commerce Department's National Oceanic and Atmospheric Administration (NOAA) emphasized: "The United States soon will start consultations with Colombia, Ecuador, Ghana, Italy, Mexico, Panama, South Korea, Spain, Tanzania and Venezuela, to encourage them to take action to address IUU fishing and by-catch by their fishermen."
In its congressionally mandated report, NOAA said the aforementioned countries had vessels that did not comply in 2011 or 2012 with conservation and management measures required under a regional fishery management organization to which the United States is a party.
"We look forward to working with these nations to encourage their compliance, and we will continue to work with our partners to detect and combat illegal practices," Sam Rauch, Deputy assistant administrator for NOAA's Fisheries Service comments.
Economic losses worldwide from stealing fish from legitimate fishing operations are estimated between $10 billion and $23 billion annually.
Fisheries contribute 3 percent of Ghana's GDP and up to 2 million people are supported by the fishing sector. The most important use of fish in Ghana is domestic consumption and up to 60 percent of animal protein is thought to be derived from fish products.
12 percent of national fish product is exported, with the most important foreign exchange earner being canned tuna.
Other exports include fresh tuna, plus tilapia and shark fin, which are described variously as 'frozen fish', 'salted fish' or 'smoked fish'. The sector is broken down into artisanal, semi-industrial/inshore and industrial.
By law industrial trawlers must operate in waters deeper than 30m. However, there have been a number of recent cases in which artisanal fishers have been injured or killed, or had their nets destroyed by trawlers invading inshore waters.