Government Should Also Suspend Salaries Of NPP MPs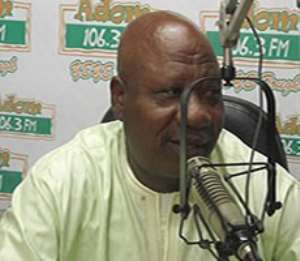 Allotey Jacobs
The Central Regional Communications Director of the National Democratic Congress (NDC), Bernard Allotey Jacobs, has appealed to Prez John Mahama to withhold the salaries of all NPP parliamentarians since they have decided to boycott government and parliamentary business.
"Government should also suspend NPP MP's salaries",he stated.
Speaking as a panelist on Peace FM's flagship "kokrokoo" programme Wednesday morning, the NDC man stated that since the NPP members of parliament were not ready to work and assist the Mahama led government to govern the nation, there would be no need for them to enjoy all benefits entitled to them.
He added that boycotting vetting and important parliamentary businesses means they should not enjoy their salaries and other remunerations.
According to Allotey Jacobs, the NPP should rather boycott parliament and not attend sittings since they are being selective in dealing with issues pertaining to parliament.
He told Tweneboah Kodua host of the show that, the NPP's attitude amounts to hypocrisy.
"They are behaving like they don't have balls between their legs", he told Peace FM.