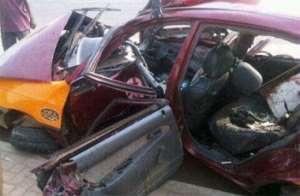 http://www.dailyguideghana.com/?attachment_id=73507 The swelling figures of deaths through road accidents, bushfires and others, are assuming a frightening dimension demanding both physical and spiritual intervention.
A situation where such accidents are fast becoming features of our country should not be tolerated because doing so would be the height of irresponsibility.
The spectacle of a 7-year-old pupil on her way to school in the company of her brother losing her life in the goriest manner in a vehicular accident is not only heartbreaking but tasking policymakers to do an immediate rethink of the state of the highway whose notoriety as a killing ground is legendary.
For parents and other stakeholders, it is a stark reminder of the dangers lurking around in a typical developing country such as ours and the important demand on them to prioritise the safety of the children with all sincerity.
We have observed regrettably that the kid who died was not being accompanied on her way to school by an adult at the time of the fatality.
Given the dangerous state of the George Bush Highway and against the backdrop of the lives it has claimed, we feel it is just prudent that adults assist children to cross that particular road, at least. In a socio-economically challenged environment, kids and women suffer most.
Many who heard about how the kid died on a highway which is still begging for additional pedestrian bridges could not avoid being morose.
The social impact of the project, it would appear, was not considered in its engineering as in the fact that people live on the other side of the road and earn their livelihood risking their lives on daily basis as they cross over.
In the case of the deceased, her school is on the other side of the highway, as a result of which she had to cross it twice on school going days.
We are by this commentary calling on the authorities to consider constructing additional foot bridges across what for now is almost a death trap.
The cruel death of the kid was not the only bad and sad news last Monday. 24 persons lost their lives in, as usual, an avoidable accident on the Buipe to Tamale road.
It would seem human lives have lost their value and those responsible for ensuring that safety measures are adhered to shirk their critical roles with bloody repercussions.
The travelling public, drivers, vehicle owners and the police must all share blame for the bloodshed on our roads.
Let us all contribute our important quota towards making our roads safe through various interventions such as raising our voices where need be, arresting erring motorists and ensuring that vehicles are roadworthy and do not pose threats to lives on the roads.
Prayers, especially in the face of suspicion of devilish pacts by some power seekers and some supernatural forces, would be very important at this stage, after other interventions have failed to make reasonable impact.