West sees Algeria as solution, not problem, in Sahel crisis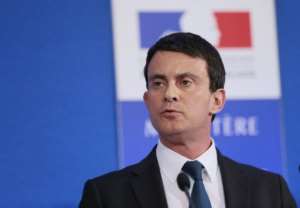 French Interior Minister Manuel Valls delivers a speech on January 18, 2013. By Jacques Demarthon (AFP)
PARIS (AFP) - International anger over the handling of a hostage crisis that left 37 foreigners dead subsided as quickly as it erupted because western powers see Algeria as part of the solution to the region's problems, not the problem, analysts say.
Initial reaction over the storming of the In Amenas gas plant by the Algerian army ranged from incandescence in Japan to tetchy, implied criticism from Britain and, in milder form, the United States.
When they weren't spluttering with indignation about not being consulted, officials in London and Washington were letting it be known that offers of special forces and technology that might have helped ensure a less blood-splattered denouement to the crisis had been rebuffed.
As the crisis unfolded tragically over the weekend, a sense of piqued irritation with what was perceived as the Algerians' "shoot first, ask questions later" approach lingered.
But by Tuesday, everyone was singing from a different hymn sheet, one written by France, which knows better than most just how jealously its former colony defends its right to decide what happens on its own soil.
"I'd advise anyone thinking of criticising (Algeria) to think twice," said French Interior Minister Manuel Valls, and it seems Paris's allies were listening.
"This would have been a most demanding task for security forces anywhere in the world," British Prime Minister David Cameron told parliament. "And we should acknowledge the resolve shown by the Algerians in undertaking it."
According to Peter Cross, who runs the Paris-based Middle East Tactical Studies (METS) consultancy, it was inevitable that France's determination to do nothing to endanger Algeria's tacit support for its military intervention in neighbouring Mali would prevail.
"It is logical that they would lean on countries like Japan," Cross told AFP. "It is French soldiers who are on the ground in Mali, their money that's being spent, their reputation that is on the line."
Jon Marks, an associate fellow of Britain's Chatham House think-tank, said the governments involved quickly woke up to the potentially huge ramifications of how narrowly they had avoided a much bigger disaster.
As the supplier of 25 percent of Europe's natural gas, Algeria has an importance that goes beyond its role as a bulwark against Islamist militants on and around its doorstep.
"There was definitely a collective calming down as governments took a step back and thought about the fallout from having so many dead in an extremely strategic source of energy for Europe," Marks added.
"Governments are very uneasy about being over dependent on (gas) supplies from Russia and it can't all come by boat from Qatar," he said.
-- Everyone is going to have to deal with Algeria --
As well as realising that alienating Algeria could potentially be self-defeating, western governments have also belatedly accepted that the strongarm tactics employed by the Algerians ensured an outcome that could have been a lot worse.
"It is a bit rich for outsiders, like Britain for example, to suggest the SAS could have done better when they would have had no knowledge of the terrain or the facility," Cross argued.
Chatham House's Marks agrees. "The reality is that there was a potentially catastrophic situation and a lot of people got out and the plant was not blown up."
France has benefited already from Algeria's decision to grant use of its airspace for bombing raids in Mali and its hopes of neutralising Islamist groups based in northern Mali could hinge on the degree of support it gets from Algiers in the coming months.
By tightening its border with Mali, Algeria could feasibly deny under siege Mali-based Islamists the kind of escape route that the Taliban and Al Qaeda enjoyed by being able to slip out of Afghanistan into the tribal areas of Pakistan.
Military experts have also highlighted the extent to which groups like Al Qaeda in the Islamic Maghreb (AQIM) need huge amounts of petrol to retain the mobility that makes them such a difficult target in northern Mali's desert expanses.
If Algiers can cut off the supply of fuel at source, the war against AQIM and its allies could be won without a single shot being fired in anger, one theory goes.
That approach, which was discussed by Algeria, Libya and Tunisia in talks last month, remains to be proven, but the importance attached to Algeria's unrivalled knowledge of the Islamist groups aspiring to create an Africa-wide emirate is not in question.
As Cross puts it: "Nobody knows the peoples of the Sahel better than (Algerian intelligence) the DRS. Even if there is no question of them getting involved publicly with what France is doing in Mali, intelligence cooperation is indispensable.
"This is not over. Goodness knows when it will be over and until it is, everyone is going to have to deal with Algeria."