10 January 2013
|
General News
It is for the integrity of judiciary we wanted in-camera hearing - Gloria Akuffo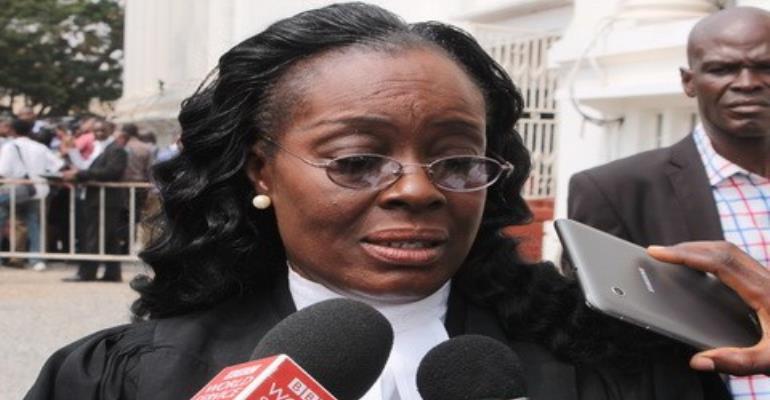 A member of the legal team of the opposition New Patriotic Party says it was for the purpose of maintaining the sanctity of the judiciary that the NPP requested an in-camera hearing of its objections to the panel of judges hearing the NDC's joinder application.
Mrs Gloria Akuffo was speaking to journalists after the case in which the governing National Democratic Congress is applying to be joined as respondents to the election petition brought by the NPP challenging the declaration of President John Mahama as winner of the December polls, was adjourned indefinitely by the Supreme Court.
Three leaders of the NPP, presidential candidate Nana Akufo-Addo, his running-mate, Dr. Mahamudu Bawumia and party Chairman, Jake Obetsebi-Lamptey who brought the election petition are opposing the NDC's application.
At the hearing, lawyers for the petitioners also opposed the composition of the court and requested an in-camera hearing to state their grounds for the objections.
Following opposition from lead counsel for the NDC, Mr. Tsatsu Tsikata, the request was declined and both counsel were asked to confer and reach a decision.
When the court resumed sitting, Mr. Tsikata and the petitioners' lawyers, led by Mr Phillip Addison remained divided on whether the petitioners' objections to the constitution of the court should be heard in-camera or not.
Mr. Tsikata maintained that the matter was of tremendous public interest and ought to be heard publicly but Mr. Addison disagreed.
In the ensuing stalemate, the court ordered the petitioners to bring a formal notice of their objections - something Mrs Akuffo said will be done very soon.
"It is for the purpose of strengthening our democracy that we thought we should adopt the procedure...to be heard in-camera; it is for the stability of this country; it is for the security of this country; it s to maintain the integrity and respect for the judiciary. But if the court - they are the final arbiters - ...think that having disclosed the nature of our objection we should still bring it formally we will respect the court's decision," she said.