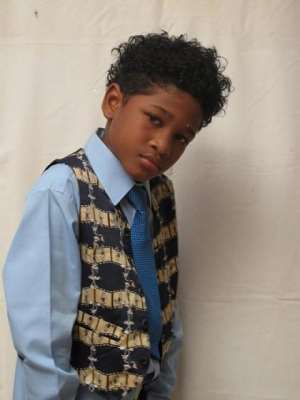 Rahim Banda
In Hollywood, young actors instantly skyrocket to stardom as soon as they are introduced onto the movie scene, but in Ghana, it is very difficult for movie makers to maintain a particular child actor due to risks involved.
However, one child actor who has broken this jinx, and whose name cannot easily be wiped out from the minds of Ghanaian movie fans is Rahim Banda.
The first time Flex newspaper came across this young actor Rahim Banda was on the set of the movie, 'The Beast' and after watching the final commercial copy of the movie, we realized Ghana had gotten another talented star who needs to be empowered.
Just last year after Rahim Banda celebrated his one year in the movie industry and had the first primary school movie premiere of his second movie titled 'Behind the mask' in which he played a major role, he had the greatest opportunity to be nominated for his role in the movie in 2011 which was produced by Bandex alongside top actors like Majid Michel, Van Vicker, Chris Attoh and Samuel Ofori.
Although he didn't win that award and the African movie awards he was nominated at the same year, he never gave up but rather worked harder.
At the age of 12, Rahim, at the recently held Ghana Movie Awards, walloped top movie stars like Adjetey Annan, Majid Michel, Edward Agyekum Kuffuor, Frank Artus and Chris Attoh, by emerging the best actor in supporting role for the movie 'Wipe My Tears', making him the first child actor to win that covetous award in the history of Ghana Movie Awards.
Even though, this year's award has been said by critics to be the worst ever, one can be confident to say Rahim's award was well-deserving.
It is my wish that Bandex, the father and manager of this prodigious child will do all he can to help Rahim Banda fully realize and hone his acting talent.
We at Flexghana.com wish Rahim Banda a good luck in his career and hope he will win more international awards for Ghana, and grow up to be one of the best actors in Ghana.