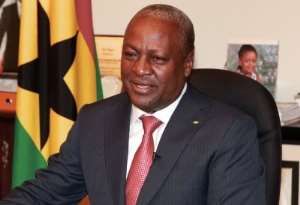 Investigations carried out by the New Statesman indicates that the 2012 Presidential Candidate of the National Democratic Congress, John Dramani Mahama, who was declared the winner of the December 7 and 8 presidential election by Chairman of the Electoral Commission, Kwadwo Afari-Gyan, and is being sworn into office today as the president, spent over $180m just to 'buy' the 2012 election.
According to top NDC sources, at least $180m (nearly GHC350m) was spent on the 2012 campaign by President Mahama and the NDC from the centre.
It is by a huge margin, the most expensive campaign ever ran in this country and relatively even more so than what incumbents spend in larger and richer Nigeria.
Our investigations show that a chunk of the money was disbursed in November from the Ministry of Finance for unbudgeted expenditure, including the payments to rlg for distribution of laptops embossed with President Mahama's campaign pictures.
The organisations that were used for this unprecedented vote buying spree included LESDEP, SADA, rlg, NADMO, Zoomlion, as well as some chiefs.
Sources at the Ministry of Finance believe most of the money disbursed close to the election was laundered through the organisations and ended up in the campaign coffers of the NDC.
Advertisement
According to a 'rigging' document cited by the New Statesman before the election, the NDC targeted 180 constituencies where they bribed officials of the Electoral Commission, and even some agents of the NPP, with various sums of money.
In the Volta Region, parts of Central, Western, Brong-Ahafo and the three northern regions, over GHC80m was spent directly to buy votes. In the Upper West, voters were given GHC50 as they stood in the queue to vote.
In the Volta Region, especially some places in the Ketu South and North Dayi constituencies, as much as GHC100 per head was paid.
The overall strategy was to target households and between GHC200-600 was paid per household, an amount which seemed like manna from heaven for many poor families.
Truck load of motorbikes, bicycles, outboard motors, sewing machines, rice, cloth, laptops and phones followed NDC campaign vehicles as the ruling party invaded communities in target areas buying votes.
Some parliamentary candidates, for example in the Nzema areas, were seen distributing monies themselves.
SADA distributed tractors a few days before election; rlg, which received GHC100m in the last few weeks of the campaign, gave out free laptops with pictures of the president. The unit price per these laptops remains known to only a few.