4 January 2013
|
General News
John Armah Is 27th Most Influential Ghanaian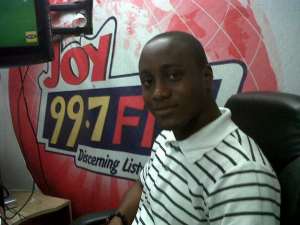 John Armah,an Entrepreneur and Young Executive has been named the 27th Most Influential Ghanaian by ETV Ghana,a prolific Television station in Ghana.
John Armah according to the annual rating done by the network distinguished himself as a young dynamic leader and influencer with his works in influencing policy decision in Ghana,youth mobilization through his works and his projects/work in helping young Ghanaian entrepreneurs and innovators with His firm, the Ghana Center for Entrepreneurship Employment and Innovation.
John has worked on many projects with numerous international organizations and institutions such as UKAid,World Bank Ghana,Ministry of Foreign Affairs,Ministry of Finance and Economic Planning amongst others. Notable among his projects are pioneering the first Mock Africa Union Summit on the continent which has been running for two years,His Ghana Youth Employment Forum with the World Bank and recently his partnership with Government to expand his firm(the Ghana Center for Entrepreneurship,Employment and Innovation-www.gceei.org)which he started some years ago to support local young entrepreneurs and innovators. This idea and partnership of His was captured in the 2012 Budget of Ghana.
His vast experience in the job market,start-ups,innovations has made him a good consultant and advisor in business start-ups,business financing,business development,matching labor supply to demand among others.
It will be recalled that John Armah was last year chosen as part of 60 entrepreneurs out of 1200 distinguished young entrepreneurs across the World to take part in the Global Entrepreneurship Summer School,an official project of the UN Decade for Sustainable Development run by the 4 Munich Universities and their Entrepreneurship Centers.
He adds this to his recent laurels in winning the 2012 Ideas Award with Dr. Ayorkor Korsah of Ashesi University and Franklin Cudjoe,Founder of IMANI Ghana,a policy think tank in Ghana.