29 December 2012
|
Africa
UNAIDS Intensifies Campaign To Fight HIV/AIDS With 'Protect The Goal'
WILLIAM NANA YAW BEEKO, Online Editor, Modern Ghana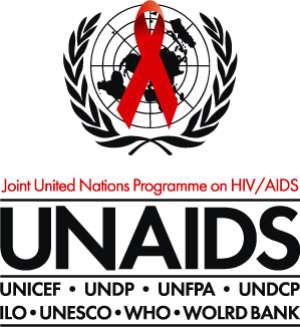 The Ghana Chapter of the 'Protect The Goal' Campaign has been launched in Accra in partnership with the UNAIDS, Ghana Football Association and Ghana AIDS Commission.
The Protect The Goal (PtG) initiative is a brand new slogan in the framework of UNAIDS' sport for global advocacy. It is a simple idea that is expected to illustrate the power of protection.
In Football, goalkeepers protect their goals and players also protect themselves during direct free kicks.
The 2013 African Cup of Nations (CAN 2013) scheduled for 19 January through to 10 February 2013 in the Republic of South Africa, will indeed be an important opportunity for youth based AIDS Advocacy. Close to 1 billion Africans and many more millions across the world will be watching these games.
UNAIDS, in close collaboration with the Confederation Of African Football (CAF) and the South African Football Association (SAFA) will be presenting the "Protect The Goal" initiative within the broader framework of UNAIDS' vision for Zero New Infections, Zero AIDS related deaths and Zero Discriminations, at the CAN 2013.
As part of the UN's wider Advocacy on HIV through Sports for the 2013 African Cup Of Nations UNAIDS has also partnered the Ghana Football Association and Ghana AIDS Commission to launch the Ghana Chapter of the Protect The Goal campaign, expected to end in 2014.
UNAIDS has over the years embarked on an advocacy agenda for HIV through Sports. These advocacies as well as other interventions have yielded tremendous results.
The UNAIDS World AIDS Day Report released on November, 20th 2012 shows more than 50% drop in new infections across 25 countries in the world, among them Ghana.
Additionally, Sub-Saharan Africa has reduced AIDS related deaths by one third in the last six years and increased the number of people on Anti-Retroviral Treatment by 59% in the last two years alone.
Here in Ghana, our national HIV Prevalence has remained at 1.5% for two consecutive years in 2010 and 2011 and rates of new infections and AIDS related deaths are on the decrease while access to treatment and prevention are on the increase.