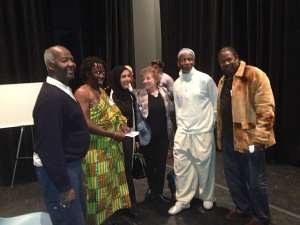 Nana Kwaku Bonsam, a powerful Ghanaian Traditional priest and folk medical doctor currently visiting the United States of America and keeping a very low key profile has spoken again on some of the strange happenings in Ghana. In a press conference delivered at the Demonstration Platform of the United Nations,NYC, Nana pointed Ghanaians to a prediction he had made after the untimely death of the Vice President Aliu Mahama; and expressed his enthused concern about the government's insensitivity to seek spiritual intervention over unexplained high profile deaths in the country.The Press conference at the UN and the observation he made follows the shocking death of the Volta Regional Minister, Mr. Henry Kamel.
THE DEATH OF VOLTA REGIONAL MINISTER REPORTED:
Information available to Joy News indicates that Volta Regional Minister, Henry Ford Kamel has passed away.
Mr Kamel, who is also the Member of Parliament for the Buem Constituency in Jasikan district of the Volta Region died on Tuesday.
Family sources say he passed on at the Jasikan Hospital.
FURTHER READING: http://edition.myjoyonline.com/pages/news/201212/99178.php
FAMILY WORRIES ABOUT RUMOURS ABOUT THE POSSIBLE CAUSE OF THE MINISTER'S DEATH
The family of the late Volta Regional Minister, Henry Ford Kamel has expressed worry over what they say is the unnecessary speculation about the death of the minister.
Media reports have been rife about the possible cause of death with some speculating the possible cause of death.
CONTINUE HERE: http://edition.myjoyonline.com/pages/news/201212/99178.php
NANA KWAKU BONSAM'S PREDICTIONS:
Our NewsonlineGh and Facebook news publication on November 18th, 2012 after the death of Former Vice President Aliu Mahama had with the following title and contents....
"Latest On Vice President Aliu Mahama's Death: Did Nana Kwaku Bonsam Warn Ghana About High Profile Deaths? "
As Ghana mourns the former Vice-President Aliu Mahama today, one Ghanaian who is grieving heavily in far away United States of America is Ghana's spiritual consultant and traditional medical doctor, Nana Kwaku Bonsam. Nana who is very disturbed about the tragedy of high profile deaths in Ghana, a problem of which he made a prophecy about it when he was in Ghana following the death of Professor Atta Mills has expressed concern about our leaders' inaction towards supporting traditional rites to counter such spiritual calamity.
Nana Kwaku Bonsam made this observation in New York after hearing the news of the passing of the Vice President.
In an interview with the representative of the PREKESE GhanaMedia Inc, Begyedom Katakyie, Nana Kwaku Bonsam said it is very said that the leaders have paid deaf ears to many spiritual revelations that many men of psychic or paranormal abilities about our nation, Ghana. He said, he personally spoke on one of the Tema Based Adom FM's Morning Shows following the death of President Atta Mills and told Ghanaians that a revelation from his deity, Kofi ooo Kofi is that President Mills sudden death earned him a ghostly title of being "SAMANTWENTWEN". In his own words, he said as "Samantwentwen" late President will come for 2 high profile people in Ghana specifically predicting that one would die before the elections and the other after the elections.
The question is why is it that the government is not listening or heeding the spiritual intervention calls from these powerful spiritual masters when Nana Kwaku Bonsam has a reputation of having predicted many important incidents, events that cut across Social Life, Politics, Sports and in Music. His most recent celebrity prediction about the United States of America's elections going in favour of Obama came to pass .
After writing the article......we posed the following question:
"With the accuracy in which Nana's predictions come to pass, our question is WHY IS THE GOVERNMENT not doing anything to mobilize spiritual interventions in this spiritual warfare. Are we waiting for another high profile death after the elections before we take action?"
ORIGINAL ARTICLE SOURCE: http://www.newsonlinegh.com/latest-on-vice-president-aliu-mahamas-death-did-nana-kwaku-bonsam-warn-ghana-about-high-profile-deaths/
OUR COMMENTS:
As we mourn with the family of Mr. Kamel and send our Yaako, we are reiterating the clarion call by Nana Kwaku Bonsam on the government to give audience to well endowed traditional spiritualists who are prescribing spiritual intervention for these untimely passing of high profile politicians. Is somebody reading this?
PREKESE GHANAMEDIA
I.C.A.C.A.