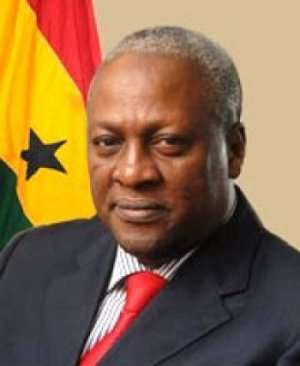 Even before he is sworn into office, President John Dramani Mahama seems to have hit the ground running as he has started making appointments into his yet-to-be-formed government.
On Tuesday afternoon, the president made seven appointments when he administered the Oath of Office on new ambassadors who are going to countries where Ghana has established long standing diplomatic relations.
The ambassadors are: Mr. Kodjo Asimeng Wadee, Liberia; Mr. Ernest Sowatey, Israel; Mr. Albert Francis Yankey, Ethiopia; Mr. Edmund Kofi Deh, Japan; Mr. Sammie P. Eddico, Switzerland; Alhaji Bawah Gilbert Ayembillah, Iran; and Morgan Adokwei Brown, Belgium.
Giving the Instrument of Office to the newly appointed ambassadors, the president urged them to always endeavour to assist every Ghanaian they come across in their line of duty irrespective of the person's immigration status.
"We have a very adventurous population. Everywhere you go, you will find a Ghanaian. Probably even if you were posted to Greenland, you would find some Ghanaians there… I think that you represent all Ghanaians when you go to those postings," he said.
President Mahama urged the ambassadors to have an open door policy to accommodate the problems and ideas of Ghanaians wherever they are posted.
On his part, the Minister for Foreign Affairs, Alhaji Mohammed Mumuni appealed to the new ambassadors to serve as brand icons to Ghanaian products and services.