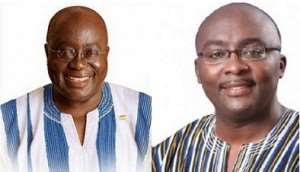 The December 7 presidential polls would soon head for a run-off between the New Patriotic Party (NPP) and the National Democratic Congress (NDC), a man of God, Rev. Dr. Isaac Owusu Bempah, leader of the Glorious World Power Ministries International, has said.
The seer said God had revealed that if the NPP decided to challenge the results of the December polls at the Supreme Court, the party would win the case but the court verdict would be such that the Electoral Commission (EC) might have to organise a run-off between the NPP and the NDC.
"From what I am seeing, there could be a second round of the election… The outcome of the court case will determine whether there would be peace or not. The judges must be firm and deliver a good judgment…I am worried about the revelation because the country will not survive it if the war should happen that is why I want all Ghanaians to stand up with one voice and pray against the perpetrators of evil," Rev. Owusu Bempah told DAILY GUIDE yesterday
Though the EC had declared the NDC candidate, President John Mahama, winner of the polls and president-elect, waiting to be officially sworn into office on January 7, 2013, the NPP has raised red flags over the EC's declaration and is currently gathering evidence of what it says are mass massaging of electoral results.
The NPP has vowed to go to court with the evidence, when it is fully gathered, by the close of the month to challenge the poll results.
Rev. Owusu Bempah warned the judges who would preside over the case to be fair in their judgment for the sake of the nation's peace.
"The onus lies on us to do whatever we can to avoid this war from happening."
He said the decision would bring some tension into the country which had a tendency of plunging the nation into war.
Rev. Owusu-Bempah said in order to prevent any calamity from befalling the nation, politicians should be ready to accept the verdict of the court.
The man of God has made numerous prophesies which have come to pass, including the plane crash that took place at the El Wak Stadium, killing 10 passengers onboard a 207 passenger bus and the plane crash that took place in Nigeria, killing over 160 people.
He also prophesied about the death of Ghana's former president and vice president John Evans Atta Mills and Alhaji Aliu Mahama respectively.
He had predicted that the December 7 elections would be won by the NPP but claimed power would elude them because of certain acts by the EC.
He also predicted victory for Professor Atta Mills in the 2008 elections.